The Ultimate Casino Guide: 1000 Great Casinos from America, Canada and Around the World
by Michael Wiesenberg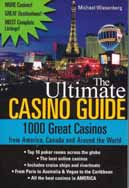 This is a complete directory of the finest casinos from around the world. Tokyo, Las Vegas, Eastern Europe, the Caribbean — and wherever else the winds of chance may blow — this exciting guide gives travelers all of the information they need about any casino in or around their travel destination.
Read a review of The Ultimate Casino Guide: 1000 Great Casinos from America, Canada and Around the World

UK Gambling Commission
The Gambling Commission, the new independent regulator for gambling in Britain, was formally launched on 1 October 2005. The Commission also provides independent advice to government on gambling in Britain.
Casino Advisory Panel
The Casino Advisory Panelé─˘s task will be to recommend to the Secretary of State for Culture, Media and Sport the areas where the one regional casino and eight large and eight small casinos would best be located. The site includes the member's list, timetable, framework document, guiding priciples, and minutes of meetings. You may also read the criteria and other reports on the website.
Although the casino industry in the United Kingdom hasover 200 establishments, all of them are small operations that feature membership requirements, a limited number of slot machines, and restricted hours of operation. The Gambling Act recently passed by Parliament will allow three new types of casinos to operate in Britain. One "regional casino" will be permitted, along with eight large and eight small casinos. The regional casino will allow up to 1,250 slot machines. Large casinos will be permitted up to 150 slots, with a maximum jackpot of £4,000.
The competition for who will get these lucrative licenses is in full swing. Major gaming and entertainment corporations and local communities are coming together to try and create the most appealing proposal for the Casino Advisory Panel, which was formed in September 2005 to advise the government on new casino locations. The UK is abuzz in super-casino madness.