Frugal Gambler
by Jean Scott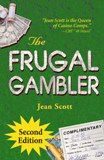 Though Jean Scott was well-known to a select few Las Vegas aficionados throughout the '90s, it wasn't until the publication of The Frugal Gambler in 1998 that she became a household name to casino players across the country. Her frequent national publicity, her long-term success in casinos around the world, and the solid low-rolling advantage-play techniques she's divulged along the way have all helped catapult The Frugal Gambler into the ranks of best-selling gambling books. The new revised edition includes a completely revamped chapter on video poker, updated coverage of getting the most out of slot clubs, recent examples of exploitable gambling promotions, and a brand new Resources section, identifying the best sources of player information available-from books to software to the Internet.
More Book Reviews
Deal Me In and Eat Professional Poker Players Alive Reviewed
There isn't a clear path by which people become professional poker players. There aren't any good courses at the local vo-tech for a person to study. The road to becoming a poker pro is inevitably difficult, circuitous, and filled with setbacks. Deal Me In is a book describing the course by which twenty top poker players became professionals.
Fear and Loathing in Las Vegas Review
Fear and Loathing in Las Vegas is widely considered to be the pinnacle of Hunter S. Thompson's writing. The book successfully combines widely disparate genres, at the same time a narrative trip report, vibrant fiction, and incisive social commentary. Thompson captures the spirit of place and time as perfectly as has Twain, Fitzgerald, Steinbeck, or any other American author.
Best Selling Poker Books of 2014
How did the new books compare to the old classics? Well, we will let the data speak for itself. Take a look at the list of the best selling poker books of 2014.