Mathematics of Poker
by Bill Chen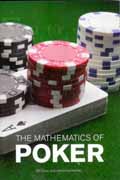 Poker has often been played as a game, by those who have learned it as a game and who have relied on thier ability to play well, to play good hands, and to read other players tells in order to improve thier chances of winning. However, there is now a new set of players who do not rely on these things, but have turned the game of poker into a game that can be won by applying the tools of computer science, and mathematics to thier hands. This new approach relies on quantitative analysis and mathematics. This book strives to take this seemingly difficult task and make it easy and understandable for players with less mathematic knowledge or skill.
More Book Reviews
Poker Winners Are Different
There is a big difference between what's typical human behavior and what is called for to play poker at a high level. There aren't a lot of people for whom maximizing their expectation in poker games comes naturally. Poker Winners Are Different by Alan Schoonmaker examines this conundrum.
Deal Me In and Eat Professional Poker Players Alive Reviewed
There isn't a clear path by which people become professional poker players. There aren't any good courses at the local vo-tech for a person to study. The road to becoming a poker pro is inevitably difficult, circuitous, and filled with setbacks. Deal Me In is a book describing the course by which twenty top poker players became professionals.
Fear and Loathing in Las Vegas Review
Fear and Loathing in Las Vegas is widely considered to be the pinnacle of Hunter S. Thompson's writing. The book successfully combines widely disparate genres, at the same time a narrative trip report, vibrant fiction, and incisive social commentary. Thompson captures the spirit of place and time as perfectly as has Twain, Fitzgerald, Steinbeck, or any other American author.