Cooke's Rules of Real Poker
by Roy Cooke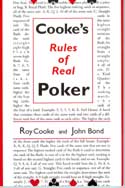 A fine, useful, timely resource, this book has 17 sections including a five-page index, ever so valuable as a time-saver when the inevitable incident or controversy occurs at the tables. As the authors explain, 'This rulebook considers fixed limit, spread limit, pot-limit and no-limit games.' To be as clear as possible, they cover Texas hold'em, seven stud and seven stud high-low split, razz, five stud, Omaha high and high low split, draw and lowball.
More Book Reviews
Deal Me In and Eat Professional Poker Players Alive Reviewed
There isn't a clear path by which people become professional poker players. There aren't any good courses at the local vo-tech for a person to study. The road to becoming a poker pro is inevitably difficult, circuitous, and filled with setbacks. Deal Me In is a book describing the course by which twenty top poker players became professionals.
Fear and Loathing in Las Vegas Review
Fear and Loathing in Las Vegas is widely considered to be the pinnacle of Hunter S. Thompson's writing. The book successfully combines widely disparate genres, at the same time a narrative trip report, vibrant fiction, and incisive social commentary. Thompson captures the spirit of place and time as perfectly as has Twain, Fitzgerald, Steinbeck, or any other American author.
Best Selling Poker Books of 2014
How did the new books compare to the old classics? Well, we will let the data speak for itself. Take a look at the list of the best selling poker books of 2014.