Las Vegas Memories
by Jerry Fink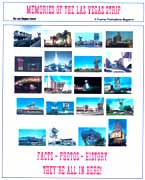 For the person who has been visiting Las Vegas for a long time, for the newbie to the swinging Strip and for those who have a longing for a bit of nostalgia, this book is a must-have. Subtitled Gone but Not Forgotten, the book focuses on casinos that have either been imploded, renamed, or eaten up by time. With pictures and text the authors provide a walk into past history for places like the Club Bingo, Desert Inn, Dunes, El Rancho, the Glass Pool Inn, the Klondike, Marina, Sans Souci, Silverbird, and more. It also takes a look at the Bally's/MGM monorail which no longer exists, the MGM fire, the World of Coca-Cola, Wet 'n' Wild, the Red Rooster as well as pictures and tibits of information about people -- showgirls and stars.
More Book Reviews
Poker Winners Are Different
There is a big difference between what's typical human behavior and what is called for to play poker at a high level. There aren't a lot of people for whom maximizing their expectation in poker games comes naturally. Poker Winners Are Different by Alan Schoonmaker examines this conundrum.
Deal Me In and Eat Professional Poker Players Alive Reviewed
There isn't a clear path by which people become professional poker players. There aren't any good courses at the local vo-tech for a person to study. The road to becoming a poker pro is inevitably difficult, circuitous, and filled with setbacks. Deal Me In is a book describing the course by which twenty top poker players became professionals.
Fear and Loathing in Las Vegas Review
Fear and Loathing in Las Vegas is widely considered to be the pinnacle of Hunter S. Thompson's writing. The book successfully combines widely disparate genres, at the same time a narrative trip report, vibrant fiction, and incisive social commentary. Thompson captures the spirit of place and time as perfectly as has Twain, Fitzgerald, Steinbeck, or any other American author.