Casino' s Most Valuable Chip
by Saverio Scheri III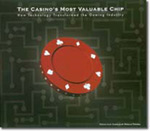 From the days of Benjamin 'Bugsy' Siegel, when high-tech meant bright pink neon signs, through today's latest digital technology, this book reviews how technology played a crucial role in the shaping of the gaming industry and the modern casino. From security to marketing, technology has greatly impacted the evolution of the gaming industry and how casinos conduct business. Gone are the days of free casino chips for patrons handed out by well-dressed pit bosses — they have been replaced by computerized slot machines that track a player's every spin and issues electronic credits right at the slot machine. The author traces technology's roots in gaming through today's high-tech casino gadgets and explores what the future may hold for technology in casinos. Touching on various aspects of casino operations, readers will get a broad review of the interesting role technology plays in the casino resort.
More Book Reviews
Poker Winners Are Different
There is a big difference between what's typical human behavior and what is called for to play poker at a high level. There aren't a lot of people for whom maximizing their expectation in poker games comes naturally. Poker Winners Are Different by Alan Schoonmaker examines this conundrum.
Deal Me In and Eat Professional Poker Players Alive Reviewed
There isn't a clear path by which people become professional poker players. There aren't any good courses at the local vo-tech for a person to study. The road to becoming a poker pro is inevitably difficult, circuitous, and filled with setbacks. Deal Me In is a book describing the course by which twenty top poker players became professionals.
Fear and Loathing in Las Vegas Review
Fear and Loathing in Las Vegas is widely considered to be the pinnacle of Hunter S. Thompson's writing. The book successfully combines widely disparate genres, at the same time a narrative trip report, vibrant fiction, and incisive social commentary. Thompson captures the spirit of place and time as perfectly as has Twain, Fitzgerald, Steinbeck, or any other American author.