Killer Poker: No Limit
by John Vorhaus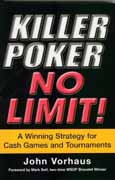 Vorhaus, author of a slew of well-respected titles, brings you the latest in his Killer Poker series. teaches you how to analyze and improve your own play in a variety of situations. Included are discussions on developing a "style of play" while teaching you how to identify your opponent's style. Included is solid advice on playing suited aces, "problem flops", and how to avoid underbetting in specific situations. The book includes an examination of "orphan flops" (the types of cards sensible players are unlikely to hold). In Killer Poker No-Limit, Vorhaus will expand your terminology with a glossary and chapters about little-talked-about scenarios. This is a general book, dealing with cash & tournament games, that will help players find holes in their playing, and their foe's playing. Table image, 'shifting' your style, managing your bankroll are included. A notebook area is provided at the end of the book.
More Book Reviews
Poker Winners Are Different
There is a big difference between what's typical human behavior and what is called for to play poker at a high level. There aren't a lot of people for whom maximizing their expectation in poker games comes naturally. Poker Winners Are Different by Alan Schoonmaker examines this conundrum.
Deal Me In and Eat Professional Poker Players Alive Reviewed
There isn't a clear path by which people become professional poker players. There aren't any good courses at the local vo-tech for a person to study. The road to becoming a poker pro is inevitably difficult, circuitous, and filled with setbacks. Deal Me In is a book describing the course by which twenty top poker players became professionals.
Fear and Loathing in Las Vegas Review
Fear and Loathing in Las Vegas is widely considered to be the pinnacle of Hunter S. Thompson's writing. The book successfully combines widely disparate genres, at the same time a narrative trip report, vibrant fiction, and incisive social commentary. Thompson captures the spirit of place and time as perfectly as has Twain, Fitzgerald, Steinbeck, or any other American author.