Lessons from the Pro Poker Tour
by David Apostolico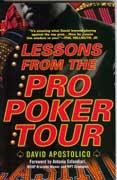 The invitation-only Professional Poker Tour is limited to the top 200 players in the world. David Apostolico is one of the elite, and he found that going up against other poker masters every day was like attending an incomparable seminar. He takes you through specific hands that he either played or observed, giving detailed analyses that will teach you how to think like a pro. Assessment and adaptability are key factors for survival and success in fast-moving games with experienced players. Smart strategy is your greatest asset, and by studying the extensive hands in this book, you'll learn the tactics and approaches of legendary winners.
More Book Reviews
Deal Me In and Eat Professional Poker Players Alive Reviewed
There isn't a clear path by which people become professional poker players. There aren't any good courses at the local vo-tech for a person to study. The road to becoming a poker pro is inevitably difficult, circuitous, and filled with setbacks. Deal Me In is a book describing the course by which twenty top poker players became professionals.
Fear and Loathing in Las Vegas Review
Fear and Loathing in Las Vegas is widely considered to be the pinnacle of Hunter S. Thompson's writing. The book successfully combines widely disparate genres, at the same time a narrative trip report, vibrant fiction, and incisive social commentary. Thompson captures the spirit of place and time as perfectly as has Twain, Fitzgerald, Steinbeck, or any other American author.
Best Selling Poker Books of 2014
How did the new books compare to the old classics? Well, we will let the data speak for itself. Take a look at the list of the best selling poker books of 2014.