Nevada Yesterdays: Short Looks at Las Vegas History
by Frank Wright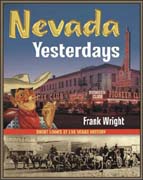 For 18 years Las Vegans have enjoyed small helpings of their own rich history served up by public radio station KNPR, hearing well-told tales of characters with names like "Whiskey Pete," and the comic-opera romance between a famous female evangelist and and a boyfriend called "Whataman." This book presents more than 100 of those stories selected mostly by the program's original author, historian Frank Wright, who mined the pits and pockets of local lore for nuggets little-known to the public, misunderstood by most, or merely enough fun to be worth telling once more.
More Book Reviews
Deal Me In and Eat Professional Poker Players Alive Reviewed
There isn't a clear path by which people become professional poker players. There aren't any good courses at the local vo-tech for a person to study. The road to becoming a poker pro is inevitably difficult, circuitous, and filled with setbacks. Deal Me In is a book describing the course by which twenty top poker players became professionals.
Fear and Loathing in Las Vegas Review
Fear and Loathing in Las Vegas is widely considered to be the pinnacle of Hunter S. Thompson's writing. The book successfully combines widely disparate genres, at the same time a narrative trip report, vibrant fiction, and incisive social commentary. Thompson captures the spirit of place and time as perfectly as has Twain, Fitzgerald, Steinbeck, or any other American author.
Best Selling Poker Books of 2014
How did the new books compare to the old classics? Well, we will let the data speak for itself. Take a look at the list of the best selling poker books of 2014.