Fear and Loathing in Las Vegas
by Hunter S. Thompson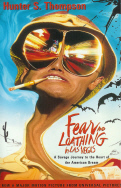 Hunter Thompson's magnum opus, Fear and Loathing in Las Vegas is a wild-eyed look at the nation disguised as a hell-raising trip to the Sodom in the American desert. Not only is this book both one of the finest and most entertaining examples of American fiction ever written, but it is also an incisive social commentary. This strange tale has lost little of its impact in the 34 years since it originally appeared in the pages of Rolling Stone magazine, and it remains one of the most insightful explorations of the true nature of Las Vegas. This is a great American novel that is truly a must-read.
More Book Reviews
Poker Winners Are Different
There is a big difference between what's typical human behavior and what is called for to play poker at a high level. There aren't a lot of people for whom maximizing their expectation in poker games comes naturally. Poker Winners Are Different by Alan Schoonmaker examines this conundrum.
Deal Me In and Eat Professional Poker Players Alive Reviewed
There isn't a clear path by which people become professional poker players. There aren't any good courses at the local vo-tech for a person to study. The road to becoming a poker pro is inevitably difficult, circuitous, and filled with setbacks. Deal Me In is a book describing the course by which twenty top poker players became professionals.
Fear and Loathing in Las Vegas Review
Fear and Loathing in Las Vegas is widely considered to be the pinnacle of Hunter S. Thompson's writing. The book successfully combines widely disparate genres, at the same time a narrative trip report, vibrant fiction, and incisive social commentary. Thompson captures the spirit of place and time as perfectly as has Twain, Fitzgerald, Steinbeck, or any other American author.