Pass the Sugar
by Joe Hachem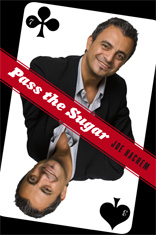 World champion Hachem talks about his arrival at the final table of the World Series of Poker, from his humble beginnings to his education and eventual illness that left him unable to practice his profession, to his wife's premonition that he would win the WSOP title even before he decided to play in the event. Lots of insight into his life and his game. 311 pages, hardbound, 2009.

Extreme Pace Handicapping
by Randy Giles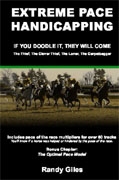 The author states that pace makes a race ONLY when horses are of equal talent and when they are not, the winner will come from studying older pace lines and applying his formulae to uncover the potential winner. This process can result in very nice overlays. 122 pages, paperbound, 2009.

Gambler's Book Shop
The Gambler's Book Shop (or Club) is the world's oldest and largest shop devoted to gambling and all its related topics. Open since 1964, The Gambler's Book Shop has thousands of books covering over 30 different areas of gambling related subjects. Besides the usual topics that include all the casino games, poker, and horse racing, you will find books about math, probabilities, biographies and novels. If you can't visit in person, you can request a copy of their FREE Catalog (CALL 1-800-522-1777) or shop online from their web site. They also offer a free monthly electronic newsletter that features new arrivals.
Gambling books are popular reading material these days with a good number of books released each week. We know it can be difficult to know which ones are worth reading. To help you make an informed decision before you buy, we publish the latest reviews by Howard Schwartz and Nick Christenson, writers who are widely considered to be the best gambling book reviewers working today.

,
the "librarian for gamblers," is the marketing director for Gambler's Book Club in Las Vegas, a position he has held since 1979. Author of hundreds of articles on gambling, his weekly book reviews appear in numerous publications throughout the gaming industry.

is widely regarded as one of the best gambling book reviewers publishing today. He is a contributor for Poker Player magazine, and has published in Full-Tilt and Gambling Times. He is also the editor of the very funny 'Casino Death Watch,' which chronicles the comings and goings of casinos in Las Vegas. He is an avid poker and blackjack player.