Playboy Casino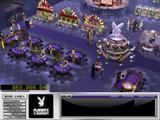 Playboy Casino offers some sexy sizzle with your gambling fun. With the two special slots, the chance to win Playboy themed prizes including meeting the girls or visiting the Playboy mansion, the site is a world away from many online casinos. Using Cryptologic as the software provider was a good choice, as the company has proven itself over the past 10 years as a reliable and innovative company. Playboy Casino does not accept US players.

UK Gambling Commission
The Gambling Commission, the new independent regulator for gambling in Britain, was formally launched on 1 October 2005. The Commission also provides independent advice to government on gambling in Britain.
UNITED KINGDOM – As reported by the BBC News: "The selection criteria used to pick the sites for 17 new casinos has been criticised by a Lords committee.
"It said there had been a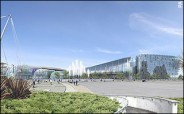 Artist's rendering of the Manchester complex where the UK's only super casino will be built. 'general misunderstanding' about the Casino Advisory Panel's aims.
"The panel believed it had to find the best testing ground to gauge the social impact, possibly at the expense of more 'common sense' issues, peers said.
"The choice of Manchester for the only UK super-casino, ahead of Blackpool and London's Dome, proved controversial.
"…The House of Lords Statutory Instruments Committee, has been examining the draft Gambling (Geographical Distribution of Casino Premises Licences) Order 2007, which would press ahead with the choice of Manchester and 16 other smaller casinos.
"The committee said the advisory panel believed its prime objective was not to select sites most in need of regeneration, but to find those locations which offered the best test of social impact.
"…A list of locations is to go before MPs for a three-hour debate and vote on 28 March, but the government has said it will back the recommendations of the committee.
"But scores of MPs have signed a Parliamentary motion, lodged by Blackpool North MP Joan Humble, calling for the move to be rethought."