UNITED KINGDOM -- As reported by BBC News: "Tony Blair has told MPs both Manchester and Blackpool should get super-casinos, if there was sufficient investment.
"In January Manchester was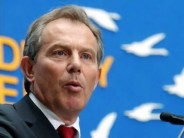 Tony Blair supports the operation of two super casinos. named the preferred site for such an attraction at the expense of Blackpool, whose supporters said it would benefit more.
"...But at prime minister's questions, Mr Blair said the government hoped to bring forward proposals ;very shortly' to introduce regional casinos.
"...Both houses of Parliament have already passed the Gambling Act - paving the way for the new casinos - into law with the plan for one trial super-casino.
"But peers rejected the Gambling Order backing the decision to build the super-casino in Manchester, by just three votes.
"...Mr Blair said: 'Personally I have never seen the reason why we should have Blackpool and Manchester pitted against each other,' he said at question time.
"'If the investment is there and able to be done, let's do both of them.'..."