UNITED KINGDOM -- As reported by the Blackpool Today: "Tessa Jowell has poured cold water on Tony Blair and Blackpool's hopes of a brace of supercasinos by stating there will only be one.
"Despite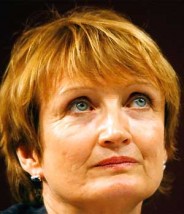 Tessa Jowell sticks to one casino for the UK. the Prime Minister coming out and saying he felt that, if there was the money, Las Vegas-style gambling meccas should be built in both Blackpool and Manchester, his Culture Secretary disagrees.
"Mrs Jowell denied there was confusion about the gambling policy after being quizzed in the House of Commons.
"...She added: 'I've made the Government's position clear – consistent with our policy of public protection, there'll be one regional casino during this Parliament.
"...Mr Blair told Parliament he could see no reason why both Blackpool and Manchester should not get a supercasino if there was investment.
"And Blackpool North and Fleetwood MP Joan Humble said Blackpool would not be giving up..."