More Book Reviews
Best Selling Poker Books of 2014
How did the new books compare to the old classics? Well, we will let the data speak for itself. Take a look at the list of the best selling poker books of 2014.
Deal Me In and Eat Professional Poker Players Alive Reviewed
There isn't a clear path by which people become professional poker players. There aren't any good courses at the local vo-tech for a person to study. The road to becoming a poker pro is inevitably difficult, circuitous, and filled with setbacks. Deal Me In is a book describing the course by which twenty top poker players became professionals.
Poker Winners Are Different
There is a big difference between what's typical human behavior and what is called for to play poker at a high level. There aren't a lot of people for whom maximizing their expectation in poker games comes naturally. Poker Winners Are Different by Alan Schoonmaker examines this conundrum.

The Ultimate Casino Guide: 1000 Great Casinos from America, Canada and Around the World
by Michael Wiesenberg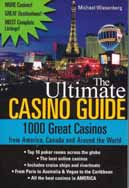 This is a complete directory of the finest casinos from around the world. Tokyo, Las Vegas, Eastern Europe, the Caribbean — and wherever else the winds of chance may blow — this exciting guide gives travelers all of the information they need about any casino in or around their travel destination.
The popularity of casinos and gaming has increased exponentially in the last few years, in large part fueled by all the recent television coverage of multimillion-dollar poker, blackjack, and slot
Michael Wiesenberg made his living playing poker for 10 years before turning to a career as a writer. His books include 'Free Money: How to Win in the Cardrooms of California'; 'The Dictonary of Poker', and 'The Ultimate Casino Guide. Check out his writings on everything online draw poker! tournaments. It seems another billion-dollar casino is being built in Las Vegas every time you open a newspaper, while new casinos are being built all over the world, many costing in the hundreds of millions dollars. The owner of the Venetian in Las Vegas recently opened a glittering world-class casino in Macau, and the most exotic gambling destination in the world, Monte Carlo, will open a fifth casino in late 2005.
Poker has grown especially popular and is fast becoming the number one sport in the world. At least once a week a new millionaire is made in one of the world-class events, turning poker stars into instant international celebrities. This book provides the most up-to-date poker information for those casinos that offer poker: what their poker room hours are (if different from the main hours), how many tables the casino has, what games they play, what their table limits are, and what tournaments they host (including those of world-class standing), along with all the buy-in and associated cost information.
As casinos become a more and more popular destination for vacationers, traveling the world to visit exotic locations has also become a part of many people's vacation plans. Those who want to combine their travels with gambling should bring this book along.
If you think casinos want your business, you're right. International casinos are competing to attract your business, making most of them even better travel destinations. Casino customers are demanding more ­ and getting more. Casinos seem to have something for everyone. They'll give you rewards cards, with which you can earn while you play. Many offer free entertainment. You'll find world-class acts in casinos all over the world, too, not just in Vegas. Las Vegas may have Wayne Newton, Elton John, and the latest Cirque du Soleil extravaganza, but you can catch the Styx tour in several casinos in California and the East Coast, you can see Deep Purple at Casino de Crans-Montana in Switzerland, listen to the Vienna Boys Choir at Casino de Genting in Malaysia, while the Gold Reef City Casino in Johannesburg offers Shakespearean plays in a replica of the Globe Theatre. Which one should you visit? It's all in this book.
Michael Wiesenberg's The Ultimate Casino Guide, published by Sourcebooks, is available at fine bookstores and at Amazon.com and other online book purveyors.