More Book Reviews
Best Selling Poker Books of 2014
How did the new books compare to the old classics? Well, we will let the data speak for itself. Take a look at the list of the best selling poker books of 2014.
Deal Me In and Eat Professional Poker Players Alive Reviewed
There isn't a clear path by which people become professional poker players. There aren't any good courses at the local vo-tech for a person to study. The road to becoming a poker pro is inevitably difficult, circuitous, and filled with setbacks. Deal Me In is a book describing the course by which twenty top poker players became professionals.
Poker Winners Are Different
There is a big difference between what's typical human behavior and what is called for to play poker at a high level. There aren't a lot of people for whom maximizing their expectation in poker games comes naturally. Poker Winners Are Different by Alan Schoonmaker examines this conundrum.
Play Penny Slots Now!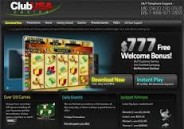 If you are just learning about slots, you should check out Club USA Casino. You can keep your risk to a minimum by playing their big selection of penny slots and you'll also get a nice sign-up bonus.
Michael Wiesenberg's
Ultimate Casino Guide: (1,000 Great Casinos from America, Canada and Around the World)
(736 pages, paperbound, $14.95) is a handy guide for those who want to travel and play or

Howard Schwartz, the "librarian for gamblers," is the marketing director for Gambler's Book Club in Las Vegas, a position he has held since 1979. Author of hundreds of articles on gambling, his weekly book reviews appear in numerous publications throughout the gaming industry. Howard's website is www.gamblersbook.com
just want information. The book tells you how to get that information – which games the casino offer, what accommodations are available, how much can you expect to spend on various items, what hours are establishment open for business, which credit cards do they accept, what are the betting limits, do they have a dress codes and is there any admission charge -- by fax, Internet or phone.
The first half of the book (300 pages) is devoted to American and Canadian casinos by state or province. Here you'll find toll-free numbers, reservation numbers, addresses, web sites and e-mail addresses. In many instances there is direction on how to get to the casino or where they are located from the city with reference to driving, taxi or bus directions. Where applicable, you'll see what the minimum age is for gambling plus information about what denomination slot machines are on site (penny, nickel, quarter, dollar).
Although the book does not contain maps, I'm sure any casino you contact would be happy to send you information on exact locale, whether in North America or elsewhere.
The book is divided nicely into chapters devoted to Central and South America, the Caribbean, Europe, Africa, Asia, Oceania, Cruise Ships (30 pages), Online Casinos (20 pages) and a 30-page index of establishments.
Formatted with easy-to-read type, this just-off-the-presses directory is fine time-saver for researchers, travelers and the curious. It also includes lists of which casinos are the biggest and best for elegance, or which are children-friendly and those with the largest poker rooms.