Poker Stars

Poker Stars has reopened for most of the world, but not yet in the United States. It is endorsed by professionals like
Daniel Negreanu
and Chris Moneymaker. The site offers Texas Hold'em, Omaha, Omaha 8/b, 7 Card Stud, 7 Card Stud 8/b, Crazy Pineapple, Crazy Pineapple 8/b, Triple Draw, Royal Hold'em. Table limits range from penny games up to $300-600. The competition leans to the more challenging end of the spectrum.
Great Video Poker at Club USA Casino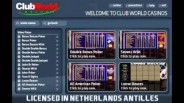 Club USA Casino offers a huge variety of video poker machines in a range of denominations. There over 14 different video poker games including Deuces Wild, All American Poker, Jacks or Better, Joker Poker and more. Many are available in multihand video poker format. Coin-in choices range from $.05 to $5.00 on single hand machines and $.01 to $1.00 on multi-hand machines.

Bovada.com
Bovada.com is the US facing casino of Bodog.com, one of the most recognizable and popular betting and gambling sites on the Internet. Run by its charismatic CEO Calvin Ayre, the company has done a great job in marketing itself to the gambling public. The site offers casino, poker, and other gambling
KAHNAWAKE, Quebec --On April 21, 2009, Morris Mohawk Gaming Group officially announced that it had reached an agreement resulting in the settlement of all pending patent litigation against a then defunct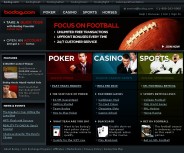 Bodog Home Page supplier company, which also resulted in the return of the world-renowned Bodog.com domain. After much discussion and careful consideration, it was determined that the Bodog.com domain is simply too valuable an asset to be used solely as a geo-targeted redirect. As such, it is with great pride that Morris Mohawk Gaming Group announces the official return of Bodog.com. Starting today, Bodog.com will once again become the center of operations for the Bodog brand's United States facing business!
"Gaining ownership of the Bodog.com domain was a moment of immense pride for me, it felt akin to taking ownership of a piece of Bodog's history," says Morris Mohawk Gaming Group CEO Alwyn Morris. "As the exclusive licensee of the Bodog brand for online gaming in the United States, we are overjoyed to not only be a part of the return of one of the industry's most prestigious and recognizable domains, but to also be the driving force behind the brands operation in that market. Bodog.com is back and here to stay!"
Even though the Bodog.com domain will house the brand's U.S. facing business, the return of the domain will be beneficial for all of the brand's global licensees as, regardless of a player's location, going to Bodog.com will automatically redirect that player to the appropriate licensee for their jurisdiction.
The official return of Bodog's U.S. facing business to the Bodog.com domain is another addition to the growing list of achievements and milestones that's making 2009 a banner year for the Bodog brand, and one of the brands best years to date. Best of all, the halfway mark of 2009 has only just passed, and there are sure to be more big announcements from the brand before the year is out! Don't miss a minute of the action, visit www.bodog.com.
Stay up-to-date on all the happenings of the Bodog brand by following @BodogCS on Twitter. You'll never miss a beat again!
Bovada is an offshoot of Bodgo,one of the most recognizable and popular betting and gambling sites on the Internet. It is a casino that offers US citizens a place to gamble online.