Texas Hold'em Odds
by Catalin Barboianu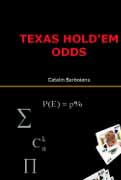 Hold'em Poker is highly predisposed to probability-based decisions. The book presents the mathematics involved in card distributions in hold'em and provides a precise account of the odds associated with all gaming events. The author is a recognized authority on casino mathematics. No formal background in mathematics is necessary for reading this book, although comfort with some probability and set theory notions is helpful. In most cases, you'll need some college math to follow the formulas but this is not a requirement, because the numerical results are collected in tables at the end of each section. The work is packed with formulas, algorithms and tables. Its primary goal is to allow the reader to quickly find the odds for own hand and for opponent's hand, in order to improve his/her betting decisions.

Phil Gordon's Little Blue Book
by Phil Gordon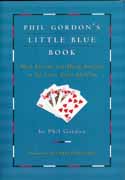 Valuable sections include Cash Games AND Tournament Play; Sit and Gos; Satellites and Supersatellites. Nicely illustrated with many lessons, examples and analysis, it's a balanced, smooth-reading textbook, some of which is based on the author's experience. This balance of common sense, strategies, ploys and an honest appraisal of what was going through his mind when he made his moves adds strength to this powerful, positive pack of lessons. One unique approach is to 'improve at poker is not by finding answers. It is by finding questions,' says champion Chris Ferguson in the foreward. This companion book to Gordon's Little Green Book does just that.