Catching Poker Cheats
by A.D. Livingston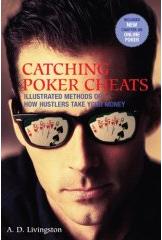 A. D. Livingston's indispensable and fully illustrated guide on to how to detect and protect yourself against cardsharps when playing poker, blackjack, gin rummy, and bridge at the table or online. Beginning with the eyeing of marked cards, false shuffles, and shifty cuts, Catching Poker Cheats helps to inform the uninformed who would otherwise be susceptible to hustlers and con artists.

The Rules of Poker: Essentials for Every Game
by Lou Krieger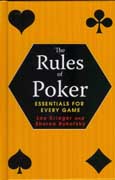 This book provides comprehensive rules for all the major poker games, making it an ultimate poker argument settler. Many rules are annotated with examples and interpretation notes so that nothing is lost in translation. The book is fully indexed so it is any easy reference is the casino, or where ever you may be playing.