Harrington on Hold'em, Volume 2: The Endgame
by Dan Harrington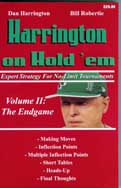 In volume one of this series, the authors explained how to play the early phases of tournaments when people have plenty of chips and the blinds and antes are small. Here, the focus is on the endgame -- how to play the later phases of a tournament when you have a shot at getting into the money, and when the blinds and antes are growing. Included is information on how to make moves, handle tricky inflection point plays and maneuver when the tourney is down to its last few players. Also included is a chapter on heads-up play a game unto itself, with winning secrets that have been closely guarded.

Positively Fifth Street
by James McManus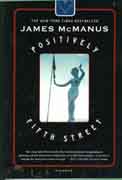 The two book canon of great poker literature that had previously included The Biggest Game in Town and Big Deal must now be expanded to include Positively Fifth Street. James McManus is articulate and engaging in his narration of the events that he experienced during the 2000 World Series of Poker. As poker literature goes, this is first rate.