SAN JOSE, Costa Rica -- Only one tournament can guarantee you poker immortality, and only one online poker site is making it easier than ever to get there. The World Series of Poker*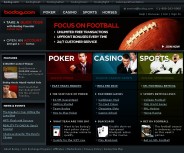 Bodog Home Page Main Event, the richest and most prestigious tournament in poker, is just weeks away, and online poker powerhouse Bodog.com continues to offer online poker players the cheapest and easiest path to winning a seat. The next two Sundays alone, Bodog.com is guaranteeing eight $12,000 Main Event prize packages, with qualifiers running daily for as little as a $1!
"The Main Event is the one tournament we all dream about winning, and the simplest and easiest way to make that dream come true is here at Bodog.com," says Bodog Poker Pro Jean-Robert Bellande. "We already have a great group of qualifiers who will be joining myself, David Williams, Evelyn Ng and Justin Bonomo for this year's Main Event, and we're anxious to qualify even more at Bodog.com over the next two Sundays."
The next shot for players to win a seat at the World Series Main Event is this Sunday, May 31, at 4:35pm EST, where, regardless of how many players enter, four players are guaranteed to walk away with a $12,000 Main Event prize package. Then on Sunday, June 7, at 4:35pm EST, four more guaranteed prize packages are up for grabs.
Players can start down their path to poker immortality with Bodog.com's online Main Event qualifiers for as a little as $1, or 100 Bodog Poker Points (PTS). Bodog.com's simple and easy tournament structures suit every budget and style. Players can earn their seats through Cheap Seats qualifiers, Sit & Gos, Last Chance qualifiers, Bodog Poker Points, or via a straight buy-in into the Semi Final events on May 31 and June 7.
Bodog.com's coveted World Series Main Event prize packages include much more than a seat to the Main Event. In addition to the $10,000 buy-in, Team Bodog players also receive $2,000 for travel to and accommodation in Las Vegas, a stylish Bodog gear bag worth $400+, and access to VIP events and player's club evenings. Bodog.com players will also have their progress reported in the World Series section on the Bodog Beat and have dedicated team handlers on-site to ensure their needs are met as they focus on the action at the tables.
In addition to playing for riches and fame, Team Bodog players will rub elbows with Bodog.com Poker Pros David Williams, Justin Bonomo, Jean-Robert Bellande and Evelyn Ng as they seek to bring home a bracelet for Team Bodog. Last year, Bodog.com Poker Pros and qualifiers walked away with a combined total of $1,629,767 in winnings from the World Series in Las Vegas. Poker fans not lucky enough to be in Las Vegas with Team Bodog can at least feel like they are there by following the action via Twitter. All Bodog.com Poker Pros will have their Twitter feeds hosted on Bodog.com's World Series page, and Bodog will also be on the ground tweeting from Las Vegas to keep poker fans in-the-know all summer long
Bovada is an offshoot of Bodgo,one of the most recognizable and popular betting and gambling sites on the Internet. It is a casino that offers US citizens a place to gamble online.