Club USA Casino Blackjack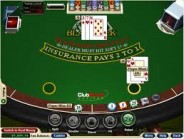 Club USA Casino Blackjack is the best bet for practicing blackjack basic strategy without stress and distractions. The game comes in both free play and real money modes and you can play up to three hands on your own table. The rules are favorable and with a house edge of only 0.71%, better than many casinos. The table minimum is $1 per hand and the maximum is $500.
Great Video Poker at Club USA Casino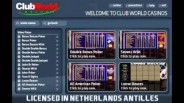 Club USA Casino offers a huge variety of video poker machines in a range of denominations. There over 14 different video poker games including Deuces Wild, All American Poker, Jacks or Better, Joker Poker and more. Many are available in multihand video poker format. Coin-in choices range from $.05 to $5.00 on single hand machines and $.01 to $1.00 on multi-hand machines.
After Bodog announced it had signed an exclusive brand license agreement with online gaming operator Haydock back in March 2009, the much-anticipated launch of the Asian-facing website is finally here.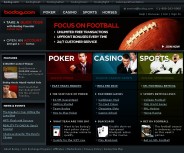 Bodog Home Page On Monday May 18th Haydock launched the site bodog88.com.
Ian Dunning, the Managing Director of Bodog88.com said: "It's has always been a pleasure to work with Entertasia and the MACOM group in general, the transition from 9play into Bodog88 was smooth and easy, their professionalism is one of the rarest in the industry, and I am fully confident in a long term win-win corporation."
Jason Chan, the CEO of Entertasia said: "We are proud to be able to work with such an energetic group, and we look forward to working with them globally in phase 2 after the success in Asia."
Haydock has big plans for the brand in Asia. "The Bodog brand is known worldwide for entertainment and a truly unique online experience – the Bodog culture is very different from anything currently offered in the Asian market today so we feel we have a competitive advantage as a lifestyle brand" explains Haydock's managing director Ian Dunning.
Among the site's current offerings are Entertasia's live dealer casino, fun proposition bets, Stock Index and Running Ball wagering on a wide variety of sports. Born in the Chinese year of the Dog in 1994,Bodog and its brand licensees have been operating for 15 years, paid out over 50 Billion USD and never missed a payout.

Bovada is an offshoot of Bodgo,one of the most recognizable and popular betting and gambling sites on the Internet. It is a casino that offers US citizens a place to gamble online.