A Huge Collection of Loose Slots!
Online casino slots are loose. Why? Because with the lower overhead, no slot employees to pay, and lower taxes, they can afford to pay more back to their customers. Roxy Palace offers a huge range of casino slots for you to play for fun or for real money prizes. From easy to play 3-reel games and fruit slot machines, all the way through to popular video slots, progressives slots and brand new releases from Microgaming, every game provides a high level of quality.
Find Loose Slots... Play Online!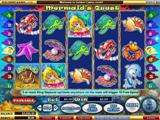 Roxy Palace has some of the loosest slots on the web. Their selection is huge and with less overhead, employee costs and taxes than your typical brick and mortar casino, they can afford to give back a bigger percentages of bets back to the customer. If you're looking for loose slots, play online!
LONDON, England -- Wink Bingo has embraced the social networking age with the creation of pages on both Facebook and Twitter. Wink Bingo prides itself on its commitment to the dual objectives of innovation

and keeping its players informed and entertained and this is just another example of it.
The players have responded enthusiastically to the sites with the Facebook page having 995 fans and the Twitter page 1,300 followers. The sites allow direct instant interaction and dialogue with the fans and in the case of the Facebook page also provide further opportunities for players to win.
Some other bingo sites have Facebook pages and Twitter feeds, but no other site has fans or followers boasting numbers to the same degree that Wink Bingo does.
For a while, every player who joined the Facebook page as a fan received 2,000 bonus points that could be converted at the bingo games. This has now concluded, but the competition whereby every 50th person to join receives 5,000 bonus points is still going. The most recent winner of this was lisag3001 who was the 950th person to become a fan of the page. It is only a matter of time until the 1,000th fan joins.
There were also trivia questions which gave fans the chance to win a prize. An example of one of the questions asked was "What word can go after 'board' and before 'service'?". Here those correctly guessing the answer won 10 cards as well as 2,000 bonus points.
Now that that has concluded, the next big promotion is "The Big O". Entry costs just GBP1 and players have the chance to win GBP25,000. Alternately 500 bingo cash points can be converted into the purchase of a card. Each player must buy a minimum of five cards and no more than 96. The winner is the first player to cover the O pattern. This is taking placing on Sunday 13 September at 8pm. In the event of there being more than one winner, the prize will be split equally between them.
Other Wink Bingo promotions currently taking place include free bingo that comes with guaranteed pots of GBP50. Games take place twice a day at 2pm and then again at 7.30pm. This is good for new players who aren't yet ready to play cash bingo for money, but want to get a taste of online bingo.
Players get the best of both worlds in the Risk Free Game. In this game players can win up to GBP500 cash. The great thing about this promotion is that all unlucky winners will have whatever they spend on the cards refunded to them.
Another popular Wink Bingo promotion is the BOGOF one. This stands for Buy One Get One Free. Players can buy Wink Bingo vouchers for their friends and families, and in the process double their voucher amount. Players are able to purchase a denomination from GBP1 to GBP20 and Wink Bingo will deposit double the amount into their friends account. This mean is the player buys voucher for GBP20, their friend will receive a gift of GBP40.
Wink Bingo isn't just an online bingo site but an online community. It has a vibe that no other online bingo site has. It is no wonder that Wink Bingo players tend to develop an affinity with the site.