FRAMINGHAM, Mass -- The National League of Poker (NLOP) has announced that starting Monday April 2nd the new
Vegas or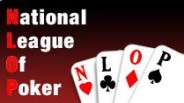 The NLOP (National League of Poker) is a good bet for poker players who want tournament action. Bust Series
had begun on its free online poker portal
www.nlop.com
. The Vegas or Bust Series is themed for poker players that are determined to play in the
WSOP
event in Las Vegas. This promotion will run for 12 weeks and will offer prizes totaling $45,000 including (12) seats to a WSOP event.
"We are really excited about our new tournament series where 12 people will win qualifier seats to the 2007 WSOP in Las Vegas," said Michael Clebnik COO of Power Play. The prize package includes the seat buy-in and travel allowance, and gives any poker player a totally free chance at playing in the
World Series of Poker
."
The newly launched NLOP.com site features a suite of new contests and invitational events, a redesigned lobby, leader board, and the introduction of some exciting game-play formats. "The redesign is just a glimpse of some of the new additions that will be released in the second half of the year," explained Kevin Vonasek, CTO and Chief Architect. "The poker players on our site are about to get a substantially enhanced game experience where they can bring customized avatars, create private tables, chat and blog with others, and have access to poker news and rich-media content."
"We have committed huge resources into building out our architecture to handle this enormous increase in players, and will soon be able to handle well over 15,000 concurrent players," stated Vonasek.
NLOP(TM), which launched to the public in June 2006, is the first completely free-to-play online poker portal that offers players a risk-free poker environment that also awards cash and prizes to winners. During the month of March 2007, NLOP(TM) administered over 20 Million minutes of poker- play had over 650,000 unique poker sessions, and generated over 75 million advertising impressions.
"The Unlawful Gambling Enforcement Act has changed the online poker landscape forever," noted Clebnik. "The withdrawal of offshore sites like Party Poker from the US market has left millions of Americans abandoned. If you love poker, and would like to win real cash and prizes, then NLOP is the only logical choice for US residents. We provide the thrill of real-money poker without the risk of losing money."
Players can register for free and play at
www.nlop.com
and enter the Vegas or Bust Series.
National League of Poker (NLOP)
2 Watson Place
Building 3, 2nd Floor
Framingham, MA 01701
Phone: info@nlop.com
Website: www.nlop.com

NLOP is the first completely free-to-play online poker portal that offers players a risk-free poker environment to play in, and awards cash and prizes to winners.