FRAMINGHAM, Massachusetts -- The National League of Poker (NLOP), a division of Power Play Development, today announced the immediate availability of its Authorized Tour Stop (ATS) program. ATS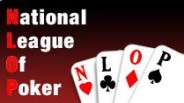 The NLOP (National League of Poker) is a good bet for poker players who want tournament action.
is an affiliate program that enables web publishers of any size to add free poker contests and promotions to their web site in a turnkey and totally outsourced fashion. The ATS program offers publishers a social gaming solution that will extend the stickiness of their site, enhance their brand and improve the depth of their customer relationships.
"The ATS is a next-generation affiliate program," noted Michael Clebnik, COO of Power Play Development "Everyone wins. The consumer wins cash and prizes without making a wager, the referring site gets new content to drive and retain visitors, and NLOP site gets exposure without spending huge marketing dollars. We feel that empowering communities with social networking applications like our Poker platform is the best way to increase and maintain site visits and user sessions."
"We were really impressed with the NLOP program," said Jeff Thomas owner/operator of www.sportsbuffpub.com. Thomas, the current president of the Fantasy Sports Trade Association has already implemented the NLOP ATS into his site as a beta client. "The fantasy sports player and online poker player are a synergistic audience," explained Thomas. "It was a natural extension to add free poker to our site and the NLOP ATS made that content addition seamless. We see the addition of free-to-play poker content and contests as a great content extension."
Power Play Development previously announced the signing of a strategic partnership agreement with national sports content provider The Sports Network, www.sportsnetwork.com. TSN will add the ATS poker affiliate program to its existing array of sports data and content feed services, exposing NLOP to TSN's impressive client list of online media properties by the end of April.
"The ATS program increases the availability of free, legal poker throughout the US," exuded Roy A. Evans EVP of NLOP. "Online poker has already proven to be the Internet's stickiest forms of content. We bring any web publisher the ability to add online poker promotions, extend their brand, drive more traffic, and offer their audience an opportunity to win hundreds of thousands of dollars in cash and prizes."
To learn more about the ATS program visit www.nlop.com/affiliates. To learn more about NLOP, visit
www.nlop.com
National League of Poker (NLOP)
2 Watson Place
Building 3, 2nd Floor
Framingham, MA 01701
Phone: info@nlop.com
Website: www.nlop.com

NLOP is the first completely free-to-play online poker portal that offers players a risk-free poker environment to play in, and awards cash and prizes to winners.