Kill Everyone
by Lee Nelson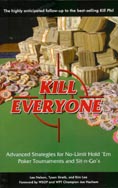 In a follow-up to the best-selling Kill Phil this book blends real-time experience, poker math, and computational horsepower to create new concepts and advanced strategies never before seen in print for multi-table tournaments, sit-n-go's, and satellites. Explains how to choose the right strategy for the right game, provides the proper tactics, and introduces new weapons into a tournament-poker-player's arsenal. These include: fear and fold equity; equilibrium plays; bubble factors; endgame strategies; optimal heads-up play and more While Kill Phil, is 90% pre-flop strategy, this book goes all the way to clearly show know how to accumulate chips early, navigate through the middle stages, and perfect your play on the bubble and at the final table.

Poker Face--Mastering Body Language to Bluff, Read Tells and Win
by Judi James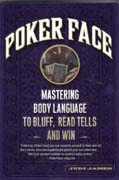 One of a number of books with the same title, this one is written by a body language and image consultant expert and consultant. Here she actually spells out how to single, double and triple bluff to disguise your poker hand. The first part of the book concentrates on you as the player, where she helps you see who you are and sets the parameters for the actor you will become in order to pull the wool over the eyes of your opponents. The second part of the work focuses on both you and your opponent and tackles subjects such as How to Stare, Classic Poker Moves, Trash Talk, and also disucusses psychological factors that cause people to act and react in certain patterns.