Hunting Fish
by Jay Greenspan
If you want to prove you are a good poker player, you don't have to battle the best. Nobody cares who you bluffed or who made a bad call against you. You just have to get the money … not the story of how you got it … and, according to the author; you prefer fish, donkeys, and donors as your opponents. So it is that he takes off on a cross-country drive looking for players he outclasses. He hits the casinos, the underground clubs and the home games, sharing tables with the most inept gamblers America has to offer. And now he writes about the trip. But this isn't just about hustling. He thought he could beat the very best and decided to take his hard-earned bankroll to the high-stakes games. How did he do?

Bad Beats and Lucky Draws
by Phil Hellmuth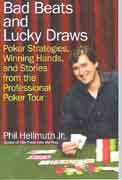 Once the exclusive game of Las Vegas high-rollers and serious gambling men, poker is now wildly popular in living rooms across America. A nine-time winner of the WSOP bracelet, Phil Hellmuth, Jr., has been a poker insider for over the last 18 years. Over the course of his celebrated career, he has played, beat, and been astounded and foiled by a striking array of hands. Building on his bestseller, Play Like the Pros, he now reveals the secrets of making tough decisions, audacious bluffs, and incredible calls-based on the bold moves of his renowned peers and rivals.