Cooke's Rules of Real Poker
by Roy Cooke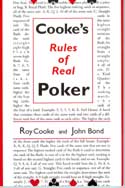 A fine, useful, timely resource, this book has 17 sections including a five-page index, ever so valuable as a time-saver when the inevitable incident or controversy occurs at the tables. As the authors explain, 'This rulebook considers fixed limit, spread limit, pot-limit and no-limit games.' To be as clear as possible, they cover Texas hold'em, seven stud and seven stud high-low split, razz, five stud, Omaha high and high low split, draw and lowball.

The Hand I Played: A Poker Memoir
by David Spanier

This is a gem of a memoir on poker. Spanier describes his initiation into gambling and then turns to describing the game he loves best...poker. Full of frank and amusing personal anecdotes and observations about poker this book is an absolute pleasure to read.