Annie Duke: How I Raised, Folded, Bluffed, Flirted, Cursed, and Won Millions
by Annie Duke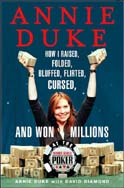 The most recognized female name and face in professional poker, Annie Duke earned her fame by first supporting her family with her poker earnings then by winning a gold bracelet and championship title at the prestigious World Series of Poker and eventually earning a $2 million purse by defeating some of the best poker players in the world at a special tournament televised on ESPN. Annie talks about growing up, learning to compete, marriage and family. Separate chapters take the reader through the World Series event where she earned her bracelet. The bones of the book provide a broad picture of what it takes to overcome all the angst and anxiety of a dysfunctional background and succeed in an unconventional career.

More Hold'em Excellence
by Lou Krieger

This is a new expanded edition which goes beyond the basics; it takes you into the mind and decision-making processes of professional poker players by providing solid information and advice on a broad spectrum of sophisticated topics. Krieger covers the importance of proper decision-making; why patience and position are vital; the flop; early, middle, and late position; common mistakes; how to play in loose, aggressive games; tells and much more. Includes the Lou Krieger full color 'Start Chart', showing which hands are playable in which situations.