Poker and Philosophy
by Eric Bronson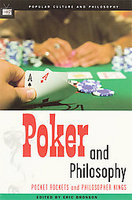 Does God play cards with the universe? Do women have better poker faces than men? What's the most existential poker movie ever made? Is life more meaningful when you go all-in? Is online poker really still poker? Poker and Philosophy ponders these questions and more, pitting young lions against old masters as the brashness of Phil Hellmuth meets the arrogance of Socrates, the recklessness of Doyle Brunson challenges the desperation of Dostoyevsky, and the coolness of Chris Moneymaker takes on the American tradition of capitalist ingenuity.

Ms Poker: I'm Not Bluffing - Boxed Set
by Susie Isaacs
Isaacs is a tournament poker competitor who has collected a roomful of first-place trophies and was the first woman to win the World Series of Poker ladies championship back-to-back in 1996 and 1997. In 1998, she placed 10th in the $10,000-event vying for the $1 million first prize. Here she combines two books to create a boxed sent. she In book I she compiled the best of the hundreds of articles she's written about poker over the years. In this highly biographical work she also includes many new articles. In Book II, she draws upon her own tournament success to teach players how to finish in the money in limit and no-limit hold'em and seven-card stud.