Russ Bailey Guide To Limit Texas Hold'em Poker
by Dan Krier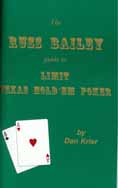 The Russ Bailey Guide to Limit Texas Hold'em Poker is book for the intermediate player. It's a book that covers a range of betting strategies that is sure to add to any poker player's game. Dan Krier, the writer of this publication, has transcribed the lessons of the game Texas Hold'em poker personally from Russ Bailey who shares his thoughts and strategies of his successful plays. This book explains the essentials of Hold'em poker, explaining how things work, and why they are done in certain ways. There is a glossary of terms followed by five chapters that cover main strategies; poker card ranks, game play and advanced strategies, 'catching' particular poker hands, and bluffing. While this book is not intended as a biography of Russ Bailey, it defiantly sheds a light into who he was and why he was such a successful poker player.

Bigger Deal: A Year Inside the Poker Boom
by Anthony Holden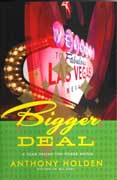 Holden's original book, Big Deal, presented a great read about his quest to play and win his way to the top of the heap, the World Series of Poker Championship. Since that year, poker has turned out to be the hottest product in the world and that's the focus of this title. Holden' presents his vision of the book and of the future of poker. He becomes a guide to the world of the "new" poker -- to the players who dominate the modern game and the personalities behind the multibillion-dollar business it has become -- as he tries once again to win the world title. Holden is friends with most of the important people in the world of poker, from players to to managers to promoters, but his roots (an ongoing home poker game) haven't shifted as he brings both worlds together here for a totally captivating work.