How to Spot a Liar
by Gregory Hartley

Author Greg Hartley is a decorated military interrogator who has used the techniques in How to Spot a Liar for 16 years to get the truth from enemy combatants. He has successfully applied them to project management and in contract negotiations, to resolve conflict and prevail. Now he shares this scientific process with you so you can use it every day. Who needs How to Spot a Liar? Anyone with a cheating spouse or manipulative boss. Anyone conducting job interviews or cold-calling prospective customers. Lawyers who need to 'read' witnesses or jurors. Anyone trying to survive the dating scene or faced with a string of business meetings with clients. Anyone who has teenagers at home or works on Capitol Hill. Anyone whose success and happiness depends on clear interaction with others. And, most importantly, anyone who wants to become just a bit more inscrutable at the poker table!

52 Ways to Cheat at Poker
by Allan Zola Kronzek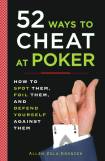 It's no secret that people cheat at poker, especially if there's no person or group or employee overseeing the action. Card sharps and sleight-of-hand experts know how to do it and they are not above trying it on you in home games and friendly country club or private arena. Kronzek, an expert at techniques himself, hwere demonstrates the swindles, marking systems and other methods used by cheats to indicate how they can rig a tournament, why cutting the cards isn't necessarily a guarantee of no cheating, how crews get together to beat others and how to spot these characters doing their dirty deeds.