Killer Poker by the Numbers
by Tony Guerrera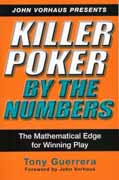 This new book by an exciting new author, CalTech graduate Tony Guerrera, introduces mathematical analysis as a vital tool in winning at no-limit hold'em. Seven major sections offer understandable material on probability, permutations, and combinations. Tony shows how to conduct solid analysis of hands, hand distribution, expected value, and how to apply these findings. Another section looks at unpaired & paired flops, followed by winning with pocket pairs (including flopping a set or better, and playing a set against made known hands). One chapter discusses drawing hands includes playing draws from early and late positions. Shorthanded play is discussed. Packed with charts & explanation, Killer Poker by the Numbers is a goldmine of mathematical ideas for gaining an edge, without intimidating formulas. The 8-page index makes it easy to locate a specific topic.

Get the Edge at Low Limit Texas Hold'em
by Bill Burton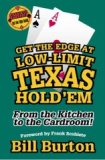 Low-Limit Texas Hold'em is the fastest-growing casino poker game. But new player often come to the poker rooms completely unprepared to play a winning game. Even so-called 'veteran' players are often long-term losers at the game because they have never taken the time to study how to play or analyze their own individual games. As author Bill Burton clearly shows in Get the Edge at Low-Limit Texas Hold'em, a savvy low-limit player can turn a profit at this game by exploiting the weaknesses of his or her opponents, and developing his or her own strengths.