Ultimate Guide to Poker Tells
by Randy Burgess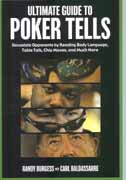 Covering limit and no-limit poker among its 10 chapters (illustrated), Burgess makes a valid point about Mike Caro's original book on the subject -- it was written before hold'em became the hottest game, when draw poker or stud was popular. Plus, another generation or two of players have honed their camouflage skills behind sunglasses, hoods, funny eyeglasses and stone-cold stares to counter reads by opponents. The book should help improve your own game, whether a beginner or hard core pro and to smooth out your own table etiquette while disguising your mode of play.

Inside Poker: The Good, the Bad and the Ugly
by Vince Burgio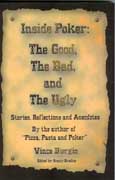 Vince Burgio is one of poker's most popular champions, not only because he is a great competitor but also because he represents the poker community with dignity and decorum. In this book, a compilation of his many columns, he often comments on the current crop of poker pros who look and act foolish for the camera and who, in his opinion, give the game a negative feeling. While that's the focus of many chapters, others cover a wide path of poker information. He talks about the people he's met, the games he's played, the fun side of poker that makes it his favorite pastime (next to playing with his grandchildren). Each segment appears to be light reading but the true poker fan will find nuggets of great interest between the lines.