Secrets the Pros Won't Tell You About Winning Hold'em Poker
by Lou Krieger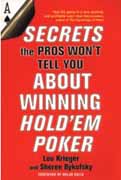 Are you curious about the pro's secrets to winning hold'em poker that none of the how-to books tell you? Professional players use strategies and tactics every day that most recreational players don't even know exist. This book was created to reveal to beginners and even good players an artful understanding of the game you love. Here's a bonus secret to start you off: This book is really two books in one. It's a book filled with secrets that you can use yourself. It's also filled with information about what other people-particularly experts-do.

The Poker Face of Wall Street
by Aaron Brown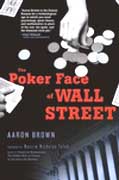 The author, an executive with Morgan Stanley, holds a degree in applied mathematics (Harvard) and in finance (University of Chicago). In both institutions, he played poker with the rich and future famous. In this work he focuses on the odds and skills underlying the mercurial crafts of risk taking and shows how poker and Wall Street are easily intertwined. He reveals why the modern game of poker and modern finance have more simlarities than differences and what they mean for players at each kind of table.