Limit Hold'em: Winning Short-Handed Strategies
by Terry Borer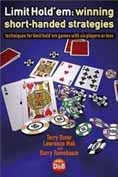 Limit hold'em games featuring 9 or 10 players sometimes frustrate skilled players because they don't present many opportunities to exploit weak play and because good hands often don't stand up. Short-handed limit hold'em games feature a maximum of six players and are becoming increasingly popular because: you get to play a lot more hands, you have more chances to exploit opponents' weaknesses and you get more opportunities to use all of your poker skills.But short-handed play differs from full ring play. Here, three expert short-handed players analyze the skills needed to succeed in short-handed play, discussing such topics as:Attacking and defending blinds, watching and reading the opposition, being aware of your own image, playing with controlled aggression.

All In: The (Almost) Entirely True Story of the World Series of Poker
by Jonathon Grotenstein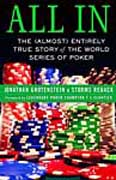 Jonathan Grotenstein and co-author Storms Reback, have done a remarkable job of research in writing 'All In: The Entirely True Story of the World Series of Poker,' using hundreds of resources, interviews and re-creations of hands and situations to take care of everything a poker buff might want to know about the most famous poker tournament in the world. Well-indexed, this is the story about how the game became popular, and of the people who helped and are helping promote it.