Winning in Tough Hold'em Games
by Nick Grudzien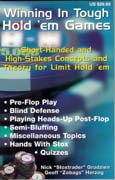 Though many books cover Texas hold'em, few concentrate on the tougher aspects of short-handed hold'em, particularly in the high-stakes limit hold'em games often found in the online poker arena. Both authors, who were fraternity brothers, gained most of their needed experience online. The authors start with a detailed explaination of the typical players at various limits, starting at the $3-6 level and progressing to the $150-300 and up limits. Their work is peppered with charts that verify the concepts and theories they teach and include pre-flop play (opening with a raise, playing to steal, isolating players, restealing, limping, etc.), defending the blinds (three bets, four bets, handling passive and aggressive blinds), post-flop heads-up play (responding to check raises on the flop and turn, betting the river as a stone bluff, turn value check, the semi-bluff, and more) plus miscellaneous topics. The final sections include sample hands and discussions of them, quizzes and a summary.

Killer Poker Hold'em Handbook
by John Vorhaus
It's time to take your game to the next level! Texas Hold'em, the most popular form of poker in casinos and tournaments today, has been said to take five minutes to learn and a lifetime to master. Not anymore. In this revolutionary workbook, renowned poker journalist John Vorhaus shows you how to play smart, fearless hold'em, read other players' tells, exploit their flaws, and turn every hold'em session into a winning one. Vorhaus explores the specific strategies and tactics used by such hold'em archetypes as the Newbie, the Weakling, the Maniac, and the Rager, and includes an innovative diary system that reveals each type's thought processes, including his own.