The Poker Aficionado
by Peter Thomas Fornatale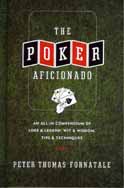 A book of lists for poker enthusiasts, this work includes information as basic as a list of the rank of hands, and as amusing as the most bizarre things used as collateral during a game. Filled with lessons learned from some of poker's biggest names, it features: Phil Gordon's ten poker commandments, Five ways to cheat—and to spot a cheater, The eight best poker movies, Mike Caro's nine most common tells, Amarillo Slim's most famous sayings,The best snacks to have at a home game, including recipes, Clonie Gowen on the advantages of being the only woman at the table, Twelve famous players' good luck charms, and Six secrets to winning at online poker.

Winning in Tough Hold'em Games
by Nick Grudzien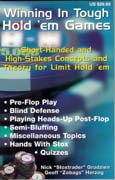 Though many books cover Texas hold'em, few concentrate on the tougher aspects of short-handed hold'em, particularly in the high-stakes limit hold'em games often found in the online poker arena. Both authors, who were fraternity brothers, gained most of their needed experience online. The authors start with a detailed explaination of the typical players at various limits, starting at the $3-6 level and progressing to the $150-300 and up limits. Their work is peppered with charts that verify the concepts and theories they teach and include pre-flop play (opening with a raise, playing to steal, isolating players, restealing, limping, etc.), defending the blinds (three bets, four bets, handling passive and aggressive blinds), post-flop heads-up play (responding to check raises on the flop and turn, betting the river as a stone bluff, turn value check, the semi-bluff, and more) plus miscellaneous topics. The final sections include sample hands and discussions of them, quizzes and a summary.