Weighing the Odds in Hold'em Poker
by King Yao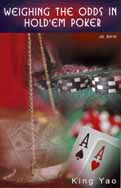 This is no ordinary hold'em book. Yao, a former derivatives trader shows how to think through the various situations you may encounter at the poker table. The chapters build upon each other in order to build an understanding of the mathematical and analytical aspects of a limit hold'em player. You do not, need to be strong in math in order to benefit from the information; rather this book challenges you to think about the game so you can understand how your opponents play and respond to different actions. The four sections include the foundation chapters that demonstrate how to identify and attack different player personalities, the basics of expected value, an explanation of outs, non-outs, unknown cards (and how to count outs), how to figure pot odds quickly and accurately and the different positions and their values. The strategic chapters cover when and against whom to raise for free cards, when and how to bluff, the importance and value of semi-bluffing, and when to use deceptive strategies such as slow play and check raise. The hand development chapters cover playing different hands, how to evaluate the flop, what to think about on the turn and how to make decisions on the river.

Playboy Guide to Playing Poker at Home
by Basil Nestor

Written by poker guru Basil Nestor, the mastermind behind the Smarter Bet series and other bestselling books about gambling, and illustrated with classic Femlins (special saucy line drawings) by legendary artist LeRoy Neiman, The Playboy Guide to Playing Poker at Home is the ultimate handbook to the ultimate house game.