Texas Hold'em Odds
by Catalin Barboianu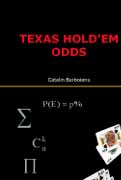 Hold'em Poker is highly predisposed to probability-based decisions. The book presents the mathematics involved in card distributions in hold'em and provides a precise account of the odds associated with all gaming events. The author is a recognized authority on casino mathematics. No formal background in mathematics is necessary for reading this book, although comfort with some probability and set theory notions is helpful. In most cases, you'll need some college math to follow the formulas but this is not a requirement, because the numerical results are collected in tables at the end of each section. The work is packed with formulas, algorithms and tables. Its primary goal is to allow the reader to quickly find the odds for own hand and for opponent's hand, in order to improve his/her betting decisions.

Smarter Bet Guide to Poker
by Basil Nestor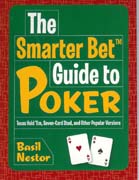 Strategy is the key to success at the poker table. Nestor gives you professional strategies for winning and helps makes poker easy to learn. Everything is here in a clear-cut format: Starting hands, profitable table conditions, dangerous card combinations, techniques for reading opponents, and much more. Quite a bit of information packed into a small format.