Internet Texas Hold'em
by Matthew Hilger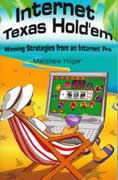 Internet Texas Hold'em: Winning Strategies from an Internet Pro is a comprehensive overview of Texas Hold'em including general poker concepts such as probability and odds, bluffing, raising and check-raising. Various deceptive tactics are also discussed such as free cards, slowplaying, and inducing bluffs and calls. You'll learn the correct strategies for starting hand play as well as playing on the flop, turn, and river. You'll learn the intricacies of playing on the Internet and the differences in strategies between Internet and live play. Finally, you'll be able to practice all of these strategies on over 200 actual Internet hands.

Amarillo Slim in a World of Fat People
by Amarillo Slim Preston

In this book Slim describes some of his greatest gambling exploits — from winning the World Series of Poker to creating extraordinary proposition bets to running the biggest black market in Europe during the war while giving pool exhibitions (hustling) on military bases for Uncle Sam.