More Book Reviews
Best Selling Poker Books of 2014
How did the new books compare to the old classics? Well, we will let the data speak for itself. Take a look at the list of the best selling poker books of 2014.
Deal Me In and Eat Professional Poker Players Alive Reviewed
There isn't a clear path by which people become professional poker players. There aren't any good courses at the local vo-tech for a person to study. The road to becoming a poker pro is inevitably difficult, circuitous, and filled with setbacks. Deal Me In is a book describing the course by which twenty top poker players became professionals.
Poker Winners Are Different
There is a big difference between what's typical human behavior and what is called for to play poker at a high level. There aren't a lot of people for whom maximizing their expectation in poker games comes naturally. Poker Winners Are Different by Alan Schoonmaker examines this conundrum.

The Poker Mindset (Essential Attitudes for Poker Success)
by Matthew Hilger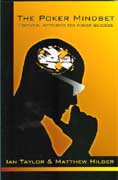 The authors answer the question of what 'secret' separates top poker players from poker wannabes. They explain that pros use a series of established approaches and behaviors that enable them to bring their best game to the table session after session, regardless of short-term results. Taylor and Hilger lay bare, the seven core attitudes and concepts that ensure you have the optimal emotional, psychological, and behavioral framework for playing superior poker.

Inside Poker: The Good, the Bad and the Ugly
by Vince Burgio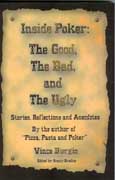 Vince Burgio is one of poker's most popular champions, not only because he is a great competitor but also because he represents the poker community with dignity and decorum. In this book, a compilation of his many columns, he often comments on the current crop of poker pros who look and act foolish for the camera and who, in his opinion, give the game a negative feeling. While that's the focus of many chapters, others cover a wide path of poker information. He talks about the people he's met, the games he's played, the fun side of poker that makes it his favorite pastime (next to playing with his grandchildren). Each segment appears to be light reading but the true poker fan will find nuggets of great interest between the lines.
Matthew Hilger, author of Internet Texas Hold'em and Texas Hold'em Odds and Probabilities has a fine new book ready for players who enjoy fresh ideas. Co-authored with Ian Taylor the book

Howard Schwartz, the "librarian for gamblers," is the marketing director for Gambler's Book Club in Las Vegas, a position he has held since 1979. Author of hundreds of articles on gambling, his weekly book reviews appear in numerous publications throughout the gaming industry. Howard's website is www.gamblersbook.com is titled The Poker Mindset (Essential Attitudes for Poker Success). In addition, Vince Burgio, one of the most personable, colorful players on the circuit, who wrote Pizza, Pasta and Poker, has a new one, titled Inside Poker: The Good, the Bad and the Ugly (Stories, Reflections and Anecdotes).
In order of mention, the Hilger-Taylor collaboration (which sells for $24.95 and is a 274-page paperbound), has as its goal revealing the answer to the question of what "secret" separates top poker players from poker wannabes. As the authors state on the cover, their approach to making good players better and excellent players a notch higher is through "seven core attitudes and concepts" involving "… optimal emotional, psychological and behavioral framework." This includes bankroll management; how to determine your competitors' mental and emotional processes so you can dominate, outthink and outplay them; handling downswings and bad beats.
Hilger, who cashed eight times at the World Series of Poker between 2004 and 2006 (including one final table and a 33rd place finish in the main event) lives in Georgia. Taylor lives in England and is an expert in risk tolerance and gambling.
Burgio, a most likeable player and a credit to the industry, loves to tell stories about poker players, life in general and tales of the people he's met at the poker tables and beyond. His book, a $14.95 paperbound (300 pages), is a collection of many of his columns, his views of the game and the friends he's made. His six-page index of names makes it easy to find a world-class player or just a plain character with a funny nickname.
Along the way (and Burgio is a well-traveled individual), you'll find plenty of common sense advice and pitfalls to avoid and you will be entertained in the long run.
"I always try to monitor a game before I get into it. I pay attention to see if there is a "talker" present. I try not to sit next to talkers," he says, because they affect his "focus" (concentration).
Along the way, he talks about players with superstitions (seats, toothpicks, jackets, the weather, certain soft drinks, cats, hats and numbers included and he tell you which beliefs belong to which players—many of them world class!). His views and recommendations about dealers, bad beats, playing on a ship are all good stuff. The well-priced book is both educational and entertaining.