Beyond Tells: Power Poker Psychology
by James McKenna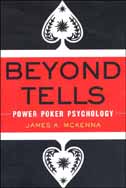 In poker, it's not enough to play your own cards well. Knowing how to read other players, gauge their hands, spot their weaknesses—these are the skills that enable you to chart a winning course of action, no matter what cards you're dealt. Noted psychotherapist and poker columnist James A. McKenna shows you how to anticipate players' behavior by analyzing their physical and mental approaches to the game.

Winning Strategies for No-Limit Hold'em
by Nick Christenson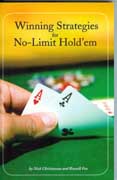 Discusses in depth the critically important aspects of hold'em that other authors generally gloss over. The authors atempt to improve your understanding of the game by focusing on a few key elements such as the importance of planning ahead, when and why to switch betwteen and optimal and exploitative strategy, understanding the differences between deep-stacked and short-stacked play, and a comprehensive exam of bet sizing.