Annie Duke: How I Raised, Folded, Bluffed, Flirted, Cursed, and Won Millions
by Annie Duke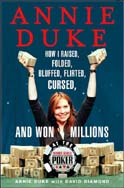 The most recognized female name and face in professional poker, Annie Duke earned her fame by first supporting her family with her poker earnings then by winning a gold bracelet and championship title at the prestigious World Series of Poker and eventually earning a $2 million purse by defeating some of the best poker players in the world at a special tournament televised on ESPN. Annie talks about growing up, learning to compete, marriage and family. Separate chapters take the reader through the World Series event where she earned her bracelet. The bones of the book provide a broad picture of what it takes to overcome all the angst and anxiety of a dysfunctional background and succeed in an unconventional career.

Poker Protection -- Cheating. . . and the World of Poker
by Steve Forte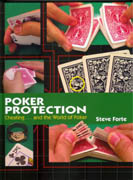 Steve Forte explains how cheaters operate today and how the grifters operated a century ago. The chapter discussing tournament play, the chance of collusion; how final table deals may occur and the often heard term "chip dumping" along with deliberate slow play should alert novice players, inexperienced supervisors or tournament organizers what might devastate their casino or reputation. Additional coverage includes Random Number Generators, the "core of every online poker hand," with an explanation of how serious security issues surfaced in 1999 and a valuable checklist of items to consider before sitting down in someone's home, in a private game or at a fraternal organization.