More Book Reviews
Best Selling Poker Books of 2014
How did the new books compare to the old classics? Well, we will let the data speak for itself. Take a look at the list of the best selling poker books of 2014.
Deal Me In and Eat Professional Poker Players Alive Reviewed
There isn't a clear path by which people become professional poker players. There aren't any good courses at the local vo-tech for a person to study. The road to becoming a poker pro is inevitably difficult, circuitous, and filled with setbacks. Deal Me In is a book describing the course by which twenty top poker players became professionals.
Poker Winners Are Different
There is a big difference between what's typical human behavior and what is called for to play poker at a high level. There aren't a lot of people for whom maximizing their expectation in poker games comes naturally. Poker Winners Are Different by Alan Schoonmaker examines this conundrum.

Inside Poker: The Good, The Bad and The Ugly
by Vince Burgio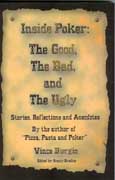 Vince Burgio is one of poker's most popular champions, not only because he is a great competitor but also because he represents the poker community with dignity and decorum. In this book, a compilation of his many columns, he often comments on the current crop of poker pros who look and act foolish for the camera and who, in his opinion, give the game a negative feeling. While that's the focus of many chapters, others cover a wide path of poker information. He talks about the people he's met, the games he's played, the fun side of poker that makes it his favorite pastime (next to playing with his grandchildren). Each segment appears to be light reading but the true poker fan will find nuggets of great interest between the lines.
I know; it's kill or be killed at the poker tables. Take the other guy or gals out and you're on your way to riches. For many players, it's the only way to play—eliminate the

Howard Schwartz, the "librarian for gamblers," is the marketing director for Gambler's Book Club in Las Vegas, a position he has held since 1979. Author of hundreds of articles on gambling, his weekly book reviews appear in numerous publications throughout the gaming industry. Howard's website is www.gamblersbook.com competition, take the money and run. However some authors take a little edge off it all. Mixing humor with advice makes for a less-pressured approach to winning and enjoying the game.
Of the more than 300 different poker books now on the shelves of the Gambler's Book Shop, a few previous examples are Poker Humor (A Collection of Poker Wit) by Gary Oliver, Hunting Fish by Jay Greenspan and Poker—Las Vegas Style by Bulldog Sykes. Two recent arrivals are Inside Poker: The Good, The Bad and The Ugly (Stories, Reflections and Anecdotes) by Vince Burgio (300 pages, paperbound, $14.95) and Texas Hold 'em (Tournaments, Cash Games and Embarrassing Social Gas) by Tony Korfman (389 pages, paperbound, $19.95).
Burgio, who loves imaginative titles, also previously penned Pizza, Pasta and Poker: The Private and Public Life of a Professional Poker Player. As solid a family man as you'll find in the business, Burgio, a nice guy, writes about the impact of being a pro—the stresses, the need to remember your roots and remain humble, the need to keep it all in perspective. Along the way, Burgio (he writes regularly for a poker magazine) talks about the strange traits of other players, superstitions, dealer responsibility, good and bad guys. He's what you'd call an "astute philosopher" in that he's had several decades of table experience and he enjoys people. This book is bits and pieces of advice, experience and adventure. Don't expect a clear avenue of information based on how to get to the final table at the World Series of Poker, but it could assist those who think poker is so all-important that they've temporarily lost their sense of values in a very complicated, often world of pressure.
Tony Korfman previously wrote a series of little books with the Playing to Win angle. This is his first poker book. He's a player (you may have seen him on television).
Regarding style, Korfman may have been influenced by sharp-tongued comedian Andrew "Dice" Clay. Clay's humor is slightly raunchy, and Korfman's book is filled with raunch. If you think you need the "f" word in a book anywhere, any time, it's in Tony's book. He has a wry sense of humor and he uses it to show what he has seen--the upside, the down side, the weird-eccentric side of poker--and he gives it to us broadside, like the pirate ships firing all guns at the same time.
Like Burgio, he misses the correct spelling of a name here and there (Burgio had Eric, instead of Erik Seidel, while Korfman gets Eric Drache incorrect as Drake). But who's perfect? The highly-opinionated Korfman has excellent recommendations for poker etiquette at the tables—including the "breastfeeding factor"!
Overall, non-conformist players—those who love to rock the boat, see the world another way or those innocents who have just gotten their feet wet as players are more likely to enjoy the book. There's some good poker advice here for everyone, but you'll have to sift to get to it. It was written to get the up-tight player to loosen up a bit. Only time will tell if Korfman achieved his goal.