Hold'em Poker For Advanced Players
by Mason Malmuth

Now considered the most important advanced work on the game today this book offers a tight but aggressive approach for medium limit games. (By medium limits, the authors mean $10-20 and on up to $30-60). Divided into six major sections, including discussions of The First Two Cards in early, middle and late position; live blinds, late position blind; Strategic Concepts; semi-bluffing, the free card, slow playing, check raising. This revised edition includes more than 100 additional pages that cover loose games, short-handed games, playing the first two cards, semi-bluffing, the free card, inducing bluffs, staying with a draw, playing when a pair flops, playing trash hands, desperation bets, wild games, reading hands, and psychology.

Your Worst Poker Enemy -- Master The Mental Game
by Alan Schoonmaker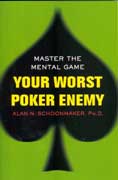 In Your Worst Poker Enemy, psychologist Dr. Alan Schoonmaker shows you how to reap the full benefits of the poker knowledge you already have by helping you to identify and stop psychologically based mistakes. This must-have book also features detailed sections that examine crucial points far beyond the scope of most other poker strategy guides, including: Using Intuition vs. Logic; Evaluating Yourself and the Opposition; Understanding Unconscious and Emotional Factors.