Secrets the Pros Won't Tell You About Winning Hold'em Poker
by Lou Krieger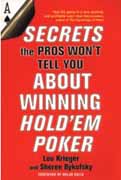 Are you curious about the pro's secrets to winning hold'em poker that none of the how-to books tell you? Professional players use strategies and tactics every day that most recreational players don't even know exist. This book was created to reveal to beginners and even good players an artful understanding of the game you love. Here's a bonus secret to start you off: This book is really two books in one. It's a book filled with secrets that you can use yourself. It's also filled with information about what other people-particularly experts-do.

The Hand I Played: A Poker Memoir
by David Spanier

This is a gem of a memoir on poker. Spanier describes his initiation into gambling and then turns to describing the game he loves best...poker. Full of frank and amusing personal anecdotes and observations about poker this book is an absolute pleasure to read.