Kill Phil
by Blair Rodman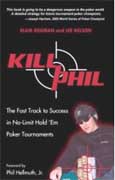 The Kill Phil strategy is designed to take advantage many feel is a weakness in no-limit hold'em tournaments -- the over-emphasis on the all-in move in the later stages. It's both instructive overall, by analyzing players and their styles and covers much territory often neglected or skimmed over by other books and theorists.

Lessons from the Pro Poker Tour
by David Apostolico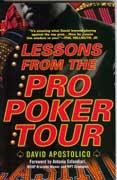 The invitation-only Professional Poker Tour is limited to the top 200 players in the world. David Apostolico is one of the elite, and he found that going up against other poker masters every day was like attending an incomparable seminar. He takes you through specific hands that he either played or observed, giving detailed analyses that will teach you how to think like a pro. Assessment and adaptability are key factors for survival and success in fast-moving games with experienced players. Smart strategy is your greatest asset, and by studying the extensive hands in this book, you'll learn the tactics and approaches of legendary winners.