Hold'em Wisdom For All Players
by Daniel Negreanu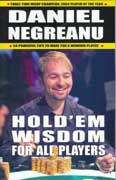 One of today's superstar poker players, Negreanu has written a book for both beginners and novice players of Texas hold'em. He has compiled 50 quick sections that focus on key winning concepts to help make the winning game both easy and fast. Some of the chapters include: 5 Reasons Why You Lose; Top Ten Rookie Mistakes; What's The Big Deal About Big Slick; Be Careful What You Learn On TV.

The Rules of Poker: Essentials for Every Game
by Lou Krieger
This book provides comprehensive rules for all the major poker games, making it an ultimate poker argument settler. Many rules are annotated with examples and interpretation notes so that nothing is lost in translation. The book is fully indexed so it is any easy reference is the casino, or where ever you may be playing.