Aces and Kings
by Michael Kaplan

Fascinating intimate profiles of the most influential and successful players in history, including Doyle Brunson, Eric Seidel, Howard Lederer, Chris 'Jesus' Ferguson, Daniel Negreanu, and many more. Thrilling play-by-plays, valuable insights, and how-to advice taken from real-life scenarios at the highest stakes tables over the past 50 years.

Beyond Tells: Power Poker Psychology
by James McKenna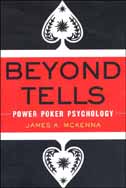 In poker, it's not enough to play your own cards well. Knowing how to read other players, gauge their hands, spot their weaknesses—these are the skills that enable you to chart a winning course of action, no matter what cards you're dealt. Noted psychotherapist and poker columnist James A. McKenna shows you how to anticipate players' behavior by analyzing their physical and mental approaches to the game.