Pass the Sugar
by Joe Hachem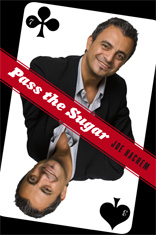 World champion Hachem talks about his arrival at the final table of the World Series of Poker, from his humble beginnings to his education and eventual illness that left him unable to practice his profession, to his wife's premonition that he would win the WSOP title even before he decided to play in the event. Lots of insight into his life and his game. 311 pages, hardbound, 2009.

Ace on the River: an Advanced Poker Guide
by Barry Greenstein

No ordinary poker book. This is the first truly 'advanced' guide aimed at improving your game. Written in an easy-to-read, bare bones conversational style and designed to help anyone interested in increasing their understanding of the game, this book is ideal for those new to the game or winning professionals. While most poker books focus on basic rules and strategies, Ace on the River's advanced perspective addresses elements that effect both game play and the player. Focusing on a variety of subjects such as the psychology of poker, money management, family issues, and sex, this book gives the reader a rare chance to look beyond the cards to see the poker world through someone who lives it. The unique you-make-the-call-play by play section will challenge the reader again and again.