The Professor, the Banker, and the Suicide King
by Michael Craig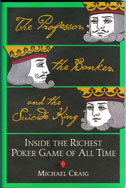 An unusual title to be sure so an explanation is in order. The Professor is Howard Lederer; the Banker is Texan Andy Beal and the Suicide King is the King of Hearts (for if you look at this card, he appears to be holding a broad sword behind his head -- or at it). This is a book about poker and people, what makes the players tick, what draws them to the cutting edge of the game, who the best are, how and why they play and why they chose the life they live. It is packed with history, biographical and background material on some of the biggest names ever to play the game, taking you from poker's early days in Las Vegas to modern times and the red-hot action nationally, internationally.

Poker 24/7 (35 Years As a Poker Pro)
by Stewart Reuben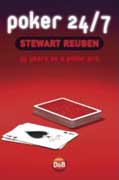 Stewart Reuben candidly gives the reasons for his success and also for his failures. Meet some of the great personalities of the game and some who you perhaps would not want to meet in a dark alley. Learn on your journey the relative merits of casino and home games; how to gamble; but most important, how to enjoy yourself.