Big Deal: One Year as a Professional Poker Player
by Anthony Holden

The best-selling account of a year spent in the tough world of the professional poker player. Poker is not gambling but is like chess, a paradigm of life at its most intense, a gladiatorial contest that brings out the best as well as the worst in people. Its heroes and eccentrics stalk the pages of this remarkable book, along with all the hair-raising, nail-biting excitement of the games themselves.

Phil Gordon's Little Blue Book
by Phil Gordon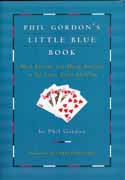 Valuable sections include Cash Games AND Tournament Play; Sit and Gos; Satellites and Supersatellites. Nicely illustrated with many lessons, examples and analysis, it's a balanced, smooth-reading textbook, some of which is based on the author's experience. This balance of common sense, strategies, ploys and an honest appraisal of what was going through his mind when he made his moves adds strength to this powerful, positive pack of lessons. One unique approach is to 'improve at poker is not by finding answers. It is by finding questions,' says champion Chris Ferguson in the foreward. This companion book to Gordon's Little Green Book does just that.