All In: The (Almost) Entirely True Story of the World Series of Poker
by Jonathon Grotenstein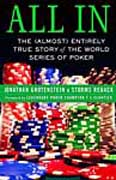 Jonathan Grotenstein and co-author Storms Reback, have done a remarkable job of research in writing 'All In: The Entirely True Story of the World Series of Poker,' using hundreds of resources, interviews and re-creations of hands and situations to take care of everything a poker buff might want to know about the most famous poker tournament in the world. Well-indexed, this is the story about how the game became popular, and of the people who helped and are helping promote it.

Diary of a Mad Poker Player
by Richard Sparks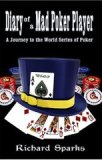 Diary of a Mad Poker Player is the story of Richard Sparks' attempts to win a seat in the final event of the 2004 World Series of Poker. The first half of the book is filled with examples of Sparks' atrocious poker play, but the last half contains some fairly interesting interviews with poker luminaries.