Catching Poker Cheats
by A.D. Livingston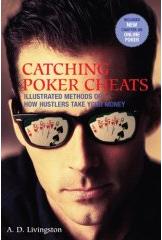 A. D. Livingston's indispensable and fully illustrated guide on to how to detect and protect yourself against cardsharps when playing poker, blackjack, gin rummy, and bridge at the table or online. Beginning with the eyeing of marked cards, false shuffles, and shifty cuts, Catching Poker Cheats helps to inform the uninformed who would otherwise be susceptible to hustlers and con artists.

Full Tilt Poker Strategy Guide
by Michael Craig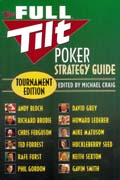 Craig has interviewed the golden dozen players big-time competitors Huck Seed, Chris Ferguson, Howard Lederer, Phil Gordon, Gavin Smith, Ted Forrest, David Grey, Mike Matusow, Andy Bloch, Rafe Furst, Richard Brodie and Keith Sexton for special insight into the world of high-stakes tournament poker. This book is very special because it carries original, smoothly arranged material for the highest level of play. It's like being able to sit in at a small, round-table, specialized seminar and being allowed to ask those key questions few players have the time to answer. Craig pulls that information from the players and arranges it so it can be absorbed, analyzed and applied easily. There are 19 extraordinary chapters that include eight on no-limit play with topics such as the Theory of Leverage; Play Before the Flop; Play After the Flop; Big Stack Play; Short-Stack Play and Online Tournament Strategy. Chapters also focus on pot limit hold'em; limit hold'em; Omaha eight or better, and pot limit Omaha. Chapters also discuss seven card stud tournament play.