Book of Bluffs
by Matt Lessinger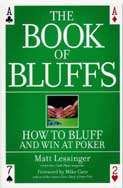 Contains 11 solid chapters, packed with illustrations, sample hands, and interviews with players who pulled off some of the biggest bluffs in modern poker history. Where most books have a basic chapter, section or discussion on bluffs, Lessinger takes it many notches better -- almost honing it to a fine art where we'd all like to be -- way ahead ands brave enough to keep plowing over the opposition even when don't have a great hand.

Hold'em Poker For Advanced Players
by Mason Malmuth

Now considered the most important advanced work on the game today this book offers a tight but aggressive approach for medium limit games. (By medium limits, the authors mean $10-20 and on up to $30-60). Divided into six major sections, including discussions of The First Two Cards in early, middle and late position; live blinds, late position blind; Strategic Concepts; semi-bluffing, the free card, slow playing, check raising. This revised edition includes more than 100 additional pages that cover loose games, short-handed games, playing the first two cards, semi-bluffing, the free card, inducing bluffs, staying with a draw, playing when a pair flops, playing trash hands, desperation bets, wild games, reading hands, and psychology.