Killer Poker Online
by John Vorhaus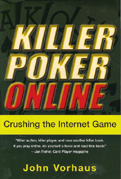 Vorhaus has contributed much to poker via the written word, much of it dealing with the mental part of the game. In this book he continues that slant, bringing a perspective to the online poker game not yet researched by others. His initial advice is to scrap your live-game strategy, which he follows with advice on how to develop a killer Internet game. He includes information on the common pitfalls an dbankroll cripplers, online tells, your margins of error and the intensity of the accelerated pace. In two chapters (The Dark Side and Pitfalls) he discusses cheating, collusion--how to detect it and what to do about it--and the problems with random number generators. However, even though he deals with these subjects, most of the book deals with learning how to play and beat online poker.

Inside Poker: The Good, The Bad and The Ugly
by Vince Burgio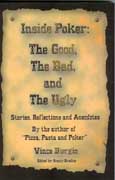 Vince Burgio is one of poker's most popular champions, not only because he is a great competitor but also because he represents the poker community with dignity and decorum. In this book, a compilation of his many columns, he often comments on the current crop of poker pros who look and act foolish for the camera and who, in his opinion, give the game a negative feeling. While that's the focus of many chapters, others cover a wide path of poker information. He talks about the people he's met, the games he's played, the fun side of poker that makes it his favorite pastime (next to playing with his grandchildren). Each segment appears to be light reading but the true poker fan will find nuggets of great interest between the lines.