Poker and Philosophy
by Eric Bronson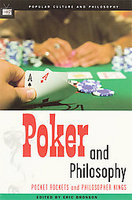 Does God play cards with the universe? Do women have better poker faces than men? What's the most existential poker movie ever made? Is life more meaningful when you go all-in? Is online poker really still poker? Poker and Philosophy ponders these questions and more, pitting young lions against old masters as the brashness of Phil Hellmuth meets the arrogance of Socrates, the recklessness of Doyle Brunson challenges the desperation of Dostoyevsky, and the coolness of Chris Moneymaker takes on the American tradition of capitalist ingenuity.

Poker Strategies for a Winning Edge in Business
by David Apostolico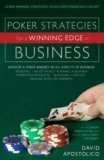 In this book, experienced poker player, tournament champion, attorney, and businessman David Apostolico takes core poker philosophies and applies them to various business situations. Readers learn how to develop a poker mindset to help them in all aspects of their business lives.