More Book Reviews
Best Selling Poker Books of 2014
How did the new books compare to the old classics? Well, we will let the data speak for itself. Take a look at the list of the best selling poker books of 2014.
Deal Me In and Eat Professional Poker Players Alive Reviewed
There isn't a clear path by which people become professional poker players. There aren't any good courses at the local vo-tech for a person to study. The road to becoming a poker pro is inevitably difficult, circuitous, and filled with setbacks. Deal Me In is a book describing the course by which twenty top poker players became professionals.
Poker Winners Are Different
There is a big difference between what's typical human behavior and what is called for to play poker at a high level. There aren't a lot of people for whom maximizing their expectation in poker games comes naturally. Poker Winners Are Different by Alan Schoonmaker examines this conundrum.

Win Your Way into Big Money Hold'em Tournaments
by Tom McEvoy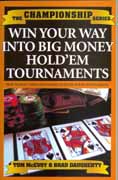 Two of poker's tournament and satellite tournament winners have joined forces to provide players with the key elements to entering and winning those valuable satellite tournaments that can get you into the big leagues for, as the cliche goes, pennies on the dollar. This book gives you specific, proven strategies for most satellite structure and situations. In addition to learning 10 Ways to Win a Seat for the World Series of Poker and other major tournaments, you also will find out how to: win limit hold'em and no-limit hold'em satellites; win one-table satellites for big tournaments; win online one-table satellites and multi-table satellites; play super satellites for the World Series of Poker; and play the final table of a super satellite.
Jackpot Sit 'n' Go Tournaments!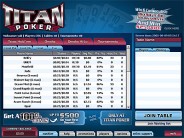 Titan Poker's jackpot sit 'n' go tournaments are extremely popular and attract veteran and novice poker players alike. The tournaments start immediately when enough players join the table, and tournament winnings are distributed according to the site's regular payout structure. If a skillful player succeeds in winning the appropriate number of consecutive tournaments, he is also entitled to receive a huge jackpot prize.
Editor's Note -- Since this review was written the book 'Championship Satellite Strategy' has been renamed 'Win Your Way into Big Money Hold'em Tournaments.'
It is often said that the person who

Nick Christenson is widely regarded as one of the best gambling book reviewers publishing today. He is a contributor for Poker Player magazine, and has published in Full-Tilt and Gambling Times. He is also the editor of the very funny 'Casino Death Watch,' which chronicles the comings and goings of casinos in Las Vegas. He is an avid poker and blackjack player. Nick's website is www.jetcafe.org/~npc/ inventing gambling was smart, but the person who invented the gambling chip was a genius. In the same manner, we might credit Benny Binion's smarts for basically inventing the poker tournament, but we might call Eric Drache a genius for inventing the tournament satellite. What is a satellite? It's a poker tournament whose ultimate prize is the entry into a larger tournament. It is well chronicled that 2003 World Series of Poker final event champion, Chris Moneymaker, parlayed a $40 buy-in into a $2.5 million payday through satellite tournaments, writing for himself the ultimate rags-to-riches poker story. Championship Satellite Strategy is the first book that focuses on satellite tournament strategy.
The authors, Tom McEvoy and Brad Dougherty, are no strangers to this topic. Each are well respected poker tournament veterans. They've both won the final event at the WSOP, and have both played in and won a multitude of tournament satellites. In fact, McEvoy is the first satellite winner to have won the final event at the WSOP. In summary, these two are eminently qualified to write on this topic.
There are almost as many formats for poker tournament satellites as there are for poker tournaments themselves. Through the course of the book, the authors discuss one-table satellites, two-tier satellites, multi-table super satellites, and online satellites. Even though many different games are played in the satellite format, by far the two most popular are limit and no-limit Hold'em, and only these games are discussed here.
With the exception of final table play, a multi-table satellite plays much like a regular tournament, and two-tier satellites play basically the same as two consecutive satellites. Consequently, the authors focus on the one-table tournaments and add some additional commentary about other formats as appropriate.
Overall, McEvoy and Dougherty provide some pretty good advice about playing in these events. At the same time, I found only a few really significant insights that might not have been thoroughly considered by an experienced tournament or satellite player. I believe their fundamental strategies are sound but not profound. In short, Championship Satellite Strategy is likely to be of significant benefit to those who are not experienced tournament or satellite players, and less useful to those who are.
I like what the authors have to say about what sorts of hands should be played under certain circumstances. I also like some of the criteria they discuss for deciding when to take a rebuy in a super. For example, if the player sitting to your left is a tough player with a pile of chips, and your table is not scheduled to be broken for a while, that might be a good reason to not rebuy in that particular tournament.
On the other hand, the authors say some things that I don't believe are well thought out. Some of their criteria for deciding how many satellites to play are arbitrary and have no mathematical foundation. Bottom line: If one has an edge in these tournaments, actual results should not determine how many of satellites one plays. A player who has a significant edge should not be results oriented and give up a good thing even if they don't win one right away. A great deal of luck goes into winning short tournament formats, so these things tend to be extremely streaky. Of course, a short bankroll, being well rested for the tournament itself, and beating oneself up mentally are all good reasons to stop playing satellites, but these should be based on personal preferences and individual circumstances, not hard-and-fast rules of thumb.
While most of the advice in Championship Satellite Strategy is very good, there are some things said in this book that really don't make any sense. Dougherty recalls a situation in a tournament where he has AQ, raises half his stack, and an AJ moves in on him, which he calls. Unfortunately, the AJ wins the hand, and Dougherty laments not moving all in and forcing the AJ to fold. While one could argue that moving in was the right play with this hand, the reasons Dougherty cites are not good ones. A player who doesn't want to play an AQ against a AJ for all their chips before the flop simply misunderstands tournament poker. Sure, sometimes the best hand loses, that's poker, but all a poker player can ask for is to have the AQ in this situation a lot more often than they have the AJ, and one can't be content to win a small pot with a huge edge when one has the opportunity to play for more with the same edge.
As I said before, though, most of the advice in this book is good, and although there aren't very many exciting revelations here, those new to satellite poker are likely to learn something from this book. More experienced players will find less of interest here. In any case, this is a respectable effort that fills a niche in the poker book market.