52 Greatest Moments World Series of Poker
by Mark Rogers

This coffee table book makes a great poker gift, autograph book and display item for discussion. Whether you are looking to preserve exciting historical moments or learn the details of the World Series of Poker, this book provides both in an entertaining and controversial format.

Pot-Limit and No-Limit Poker
by Bob Ciaffone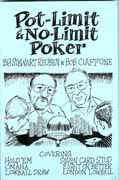 The first instructional work devoted exclusively to pot-limit and no-limit betting. The games covered include hold'em and Omaha; lowball draw; seven-card stud; and London lowball. Poker theory applicable to high -low split betting and tournament strategy are also thoroughly studied. Includes quizzes to grade the reader's progress, and a number of odds tables. The book is geared to readers who are already experienced poker players and who would like to learn more about the fascinating subject of big-bet poker, where the only limits on how much you can bet may be the number of chips in front of you and the size of your heart.