52 Ways to Cheat at Poker
by Allan Zola Kronzek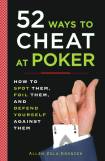 It's no secret that people cheat at poker, especially if there's no person or group or employee overseeing the action. Card sharps and sleight-of-hand experts know how to do it and they are not above trying it on you in home games and friendly country club or private arena. Kronzek, an expert at techniques himself, hwere demonstrates the swindles, marking systems and other methods used by cheats to indicate how they can rig a tournament, why cutting the cards isn't necessarily a guarantee of no cheating, how crews get together to beat others and how to spot these characters doing their dirty deeds.

The Official Dictionary of Poker
by Michael Wiesenberg

Completely updated and revised, this edition contains the entire spectrum of poker terminology, from the common ('Texas hold 'em') to the obscure ('Dewey Duck'), illustrated by thousands of colorful examples actually heard in cardrooms. If you've ever wondered about the correct way to use a poker term or were bewildered by what your poker-playing cohorts were saying, here's the one book that explains it all. You will find The Official Dictionary of Poker valuable as a reference; you will return to it frequently as a fun read.