Positively Fifth Street
by James McManus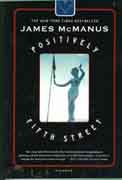 The two book canon of great poker literature that had previously included The Biggest Game in Town and Big Deal must now be expanded to include Positively Fifth Street. James McManus is articulate and engaging in his narration of the events that he experienced during the 2000 World Series of Poker. As poker literature goes, this is first rate.

Your Worst Poker Enemy -- Master The Mental Game
by Alan Schoonmaker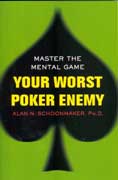 In Your Worst Poker Enemy, psychologist Dr. Alan Schoonmaker shows you how to reap the full benefits of the poker knowledge you already have by helping you to identify and stop psychologically based mistakes. This must-have book also features detailed sections that examine crucial points far beyond the scope of most other poker strategy guides, including: Using Intuition vs. Logic; Evaluating Yourself and the Opposition; Understanding Unconscious and Emotional Factors.