The Poker Aficionado
by Peter Thomas Fornatale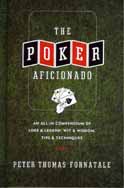 A book of lists for poker enthusiasts, this work includes information as basic as a list of the rank of hands, and as amusing as the most bizarre things used as collateral during a game. Filled with lessons learned from some of poker's biggest names, it features: Phil Gordon's ten poker commandments, Five ways to cheat—and to spot a cheater, The eight best poker movies, Mike Caro's nine most common tells, Amarillo Slim's most famous sayings,The best snacks to have at a home game, including recipes, Clonie Gowen on the advantages of being the only woman at the table, Twelve famous players' good luck charms, and Six secrets to winning at online poker.

Winning Secrets of Poker
by Peter Thomas Fornatale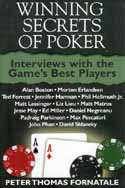 Fornatale interviews 18 professional poker players with a combined 20 World Series of Poker bracelets in an attempt to discover what separates them from the recreational player. Besides reading how Phil Hellmuth tries to control his temper to Jennifer Harman talking about the nerve-racking scene of playing in the world's biggest poker game, Fornatale interviews Max Pescatori, David Sklansky, Matt Lessinger, an Anonymous Midwestern pro, Liz Lieu, Jesse May, Daniel Negreanu, Ed Miller, John Phan, Alan Boston, an anonymous Downtown pro, Ted Forrest, Padraig Parkinson, Matt Matros, Morten Erlandsen and the anonymous pro from Hell's Kitchen.