Beyond Tells: Power Poker Psychology
by James McKenna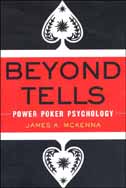 In poker, it's not enough to play your own cards well. Knowing how to read other players, gauge their hands, spot their weaknesses—these are the skills that enable you to chart a winning course of action, no matter what cards you're dealt. Noted psychotherapist and poker columnist James A. McKenna shows you how to anticipate players' behavior by analyzing their physical and mental approaches to the game.

Amarillo Slim in a World of Fat People
by Amarillo Slim Preston

In this book Slim describes some of his greatest gambling exploits — from winning the World Series of Poker to creating extraordinary proposition bets to running the biggest black market in Europe during the war while giving pool exhibitions (hustling) on military bases for Uncle Sam.