Machiavellian Poker Strategy
by David Apostolico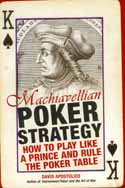 In Tournament Poker and the Art of War, David Apostolico showed players how to use the strategies explored in Sun-tzu's military manual to dramatically enhance their tournament play. Now he focuses on that other timeless masterpiece of tactical thinking—Machiavelli's The Prince—and reveals its uncanny application not just to tournament play, but to all forms of poker.

Tales from the Tiltboys
by The Tiltboys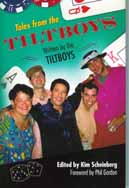 The Tiltboys -- even casual poker fan will recognize Phil Gordon, the ringleader of this bunch of seemingly devil-may-care gamblers. Gordon is the expert commentator for TV's 'Celebrity Poker Showdown.' The rest are a bunch of buddies who went to Stanford together and began a weekly poker game that led to weekend trips to Las Vegas and, for a few of them, to a life of playing poker professionally. Phil Gordon made dot.com millions and is now living the good life in the poker world and on television. Perry Friedman won a World Series of Poker event. Dave 'Diceboy' Lambert is, according to the other Tiltboys, the luckiest human being on the planet.Kim 'Tiltmom' Scheinbert is the backagammon assassin. They are the leaders of this pack of 13 who will bet on how long it will take an old lady to cross the street, or whose luggage will come down the carousel at the airport first. They are the gang your parents warned you about but are also the gang your parents would welcome with open arms.