More Book Reviews
Best Selling Poker Books of 2014
How did the new books compare to the old classics? Well, we will let the data speak for itself. Take a look at the list of the best selling poker books of 2014.
Deal Me In and Eat Professional Poker Players Alive Reviewed
There isn't a clear path by which people become professional poker players. There aren't any good courses at the local vo-tech for a person to study. The road to becoming a poker pro is inevitably difficult, circuitous, and filled with setbacks. Deal Me In is a book describing the course by which twenty top poker players became professionals.
Poker Winners Are Different
There is a big difference between what's typical human behavior and what is called for to play poker at a high level. There aren't a lot of people for whom maximizing their expectation in poker games comes naturally. Poker Winners Are Different by Alan Schoonmaker examines this conundrum.

Positively Fifth Street
by James McManus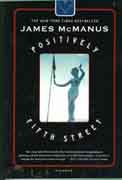 The two book canon of great poker literature that had previously included The Biggest Game in Town and Big Deal must now be expanded to include Positively Fifth Street. James McManus is articulate and engaging in his narration of the events that he experienced during the 2000 World Series of Poker. As poker literature goes, this is first rate.
In May of 2000, Jim McManus set out for Las Vegas to: Write a story about the rise of women participants in the World Series of Poker, write a story about the bizarre murder of Ted Binion, and enter

Nick Christenson is widely regarded as one of the best gambling book reviewers publishing today. He is a contributor for Poker Player magazine, and has published in Full-Tilt and Gambling Times. He is also the editor of the very funny 'Casino Death Watch,' which chronicles the comings and goings of casinos in Las Vegas. He is an avid poker and blackjack player. Nick's website is www.jetcafe.org/~npc/ a few satellite tournaments to see if he can win his way into "The Big One", the final event of the WSOP. McManus came away with a story, but certainly not quite the one he expected.
Positively Fifth Street is an expansion of material McManus wrote which was published in the December, 2000 issue of Harper's magazine. While the Harper's article related only a synopsis of McManus' poker adventures, by expanding the story to book length, he is able to cover a lot more ground, including a great deal of information regarding the two stories he originally went to Las Vegas to cover. We also are presented with a great deal more information about the author's poker escapades in Las Vegas, as well as an abundance of his thoughts and motivations, his background, his feelings, and how all this influences the arc he travels through the story.
The book begins with McManus weaving a plausible, although speculative, scenario describing the events that may have transpired the day Ted Binion died which reads like a piece of a Quentin Tarantino film. Starting with the second chapter, McManus starts his chronology by setting the stage for trip to Las Vegas. From then on, we flip back and forth between the several intertwined stories throughout the rest of the book. This isn't a dry narrative listing poker hands, nor is does the author blandly recount the proceedings of the Binion murder trial. McManus is very much a part of every phase of the story. We see it all unfold through his eyes. He tells us about the thoughts that guide the play of his hands, the process he goes through while he interviews the Binion family, and even what passes between his ears while tracking down leads at a local "gentleman's club". Perhaps needless to say, this book doesn't make a "PG" rating.
Here's the bottom line: This book is a great read. While occasionally it's clear that McManus is pushing a little too hard, this is apparent primarily because so many of his passages are stunningly well written. It's rare that we find a poker player who is able to express himself so eloquently. Comparisons to poker classics such as Al Alvarez' The Biggest Game in Town and Tony Holden's Big Deal are only natural. Further, those comparisons are fair. It's my opinion that Positively Fifth Street can be added to this rarefied company of books that capture the spirit and excitement of this great poker event in a way that transcends the event itself.
At the same time, the reader should not mistake this book as a poker "how-to". More than once I found myself cringing at the way the author played some of his hands. It is, however, the story of a great adventure about which every poker aficionado dreams but precious few will get to experience. I have to admit, that in addition to being engaged in the narrative, I was more than a little jealous of the author. Jealous not only of his accomplishment at getting to play out his dreams on poker's biggest stage, but also at his ability to recount this magnificent experience so vividly. I predict that anyone who loves to read about poker, and many who don't, will greatly enjoy this book. I strongly recommend it.