The Rules of Poker: Essentials for Every Game
by Lou Krieger
This book provides comprehensive rules for all the major poker games, making it an ultimate poker argument settler. Many rules are annotated with examples and interpretation notes so that nothing is lost in translation. The book is fully indexed so it is any easy reference is the casino, or where ever you may be playing.

Cooke's Rules of Real Poker
by Roy Cooke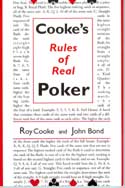 A fine, useful, timely resource, this book has 17 sections including a five-page index, ever so valuable as a time-saver when the inevitable incident or controversy occurs at the tables. As the authors explain, 'This rulebook considers fixed limit, spread limit, pot-limit and no-limit games.' To be as clear as possible, they cover Texas hold'em, seven stud and seven stud high-low split, razz, five stud, Omaha high and high low split, draw and lowball.