Drawing Dead to a Gutshot: How to Talk Poker
by Brant Janeway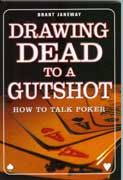 Everyone who has ever sat into a poker game for the first time knows the language is a bit different from everyday lingo. From ace-high to to brass Brazilian to Siegfried and Roy, to Zooted, Janeway gives the definition and origin of the game's colorful and unique terms. A clever presentation, perfect for trivia buffs, budding poker players.

Texas Hold'em Odds and Probabilities
by Matthew Hilger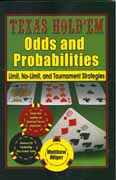 Even though the math behind the game of poker is fairly simple, some people still don't understand how to derive numbers and/or how to use them in action. Matthew Hilger, author of a best-selling book on playing poker on the Internet, takes the seemingly complex subject and breaks it down into usable information. He covers limit and no limit as well as tournament situations and focuses not just on how to calculate odds but also how to apply them to make better decisions. Because he uses everyday language and very few formula, his simple concepts and strategies mean you don't have to be a wiz in math. Illustrated with charts and diagrams, the book spans the math gap to cover the needs of the beginning, intermediate and the experienced player.