Harrington on Hold'em, Volume 2: The Endgame
by Dan Harrington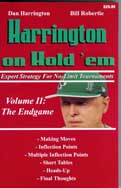 In volume one of this series, the authors explained how to play the early phases of tournaments when people have plenty of chips and the blinds and antes are small. Here, the focus is on the endgame -- how to play the later phases of a tournament when you have a shot at getting into the money, and when the blinds and antes are growing. Included is information on how to make moves, handle tricky inflection point plays and maneuver when the tourney is down to its last few players. Also included is a chapter on heads-up play a game unto itself, with winning secrets that have been closely guarded.

Swimming with the Devil Fish
by Des Wilson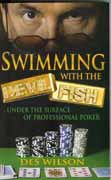 This revealing book uncovers for the first time the amazing world of professional poker in Britain, and tells the story of the country's top poker professional -- Dave 'The Devilfish' Ulliott. Ulliott is a former safe cracker who spent his 21st birthday in prison, became a pawnbroker, and then conquered the poker world, winning the first Late-Night Poker final and a World Series gold bracelet. Des Wilson's book is must-read for anyone who is part of, or fascinated by, the growth of professional poker, from yesterday's illegal back-street card games to the cyberspace and television.