Killer Poker: No Limit
by John Vorhaus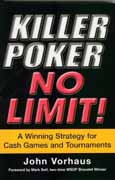 Vorhaus, author of a slew of well-respected titles, brings you the latest in his Killer Poker series. teaches you how to analyze and improve your own play in a variety of situations. Included are discussions on developing a "style of play" while teaching you how to identify your opponent's style. Included is solid advice on playing suited aces, "problem flops", and how to avoid underbetting in specific situations. The book includes an examination of "orphan flops" (the types of cards sensible players are unlikely to hold). In Killer Poker No-Limit, Vorhaus will expand your terminology with a glossary and chapters about little-talked-about scenarios. This is a general book, dealing with cash & tournament games, that will help players find holes in their playing, and their foe's playing. Table image, 'shifting' your style, managing your bankroll are included. A notebook area is provided at the end of the book.

Limit Hold'em: Winning Short-Handed Strategies
by Terry Borer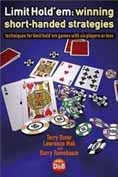 Limit hold'em games featuring 9 or 10 players sometimes frustrate skilled players because they don't present many opportunities to exploit weak play and because good hands often don't stand up. Short-handed limit hold'em games feature a maximum of six players and are becoming increasingly popular because: you get to play a lot more hands, you have more chances to exploit opponents' weaknesses and you get more opportunities to use all of your poker skills.But short-handed play differs from full ring play. Here, three expert short-handed players analyze the skills needed to succeed in short-handed play, discussing such topics as:Attacking and defending blinds, watching and reading the opposition, being aware of your own image, playing with controlled aggression.