More Book Reviews
Best Selling Poker Books of 2014
How did the new books compare to the old classics? Well, we will let the data speak for itself. Take a look at the list of the best selling poker books of 2014.
Deal Me In and Eat Professional Poker Players Alive Reviewed
There isn't a clear path by which people become professional poker players. There aren't any good courses at the local vo-tech for a person to study. The road to becoming a poker pro is inevitably difficult, circuitous, and filled with setbacks. Deal Me In is a book describing the course by which twenty top poker players became professionals.
Poker Winners Are Different
There is a big difference between what's typical human behavior and what is called for to play poker at a high level. There aren't a lot of people for whom maximizing their expectation in poker games comes naturally. Poker Winners Are Different by Alan Schoonmaker examines this conundrum.

The Best Hand I Ever Played
by Steve Rosenbloom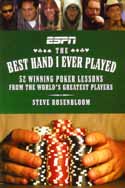 An enjoyable-to-read collection of 52 interviews with the best professional poker players in the world (including Doyle Brunson, Amarillo Slim, Phil Gordon, Howard Lederer, Scott Fischman, Chris Moneymaker and Annie Duke) in which they recount the greatest hands of their storied careers. Combining heart-stopping action, dramatic storytelling, larger-than-life characters, and expert instruction, Rosenbloom, the syndicated poker columnist for the Chicago Tribune and the ESPN Poker Club, provides colorful, money-making wisdom from the sharpest minds in the game. Whether you're a newcomer in a friendly weekly game, an on-line shark, or a veteran of Vegas tournaments, this book will teach you to talk, think, and play like a pro.
Many, perhaps most, poker players remember a hand they played where everything just clicked, where out of the blue some insight struck that led to a good raise, call, or fold that that previously wasn't

Nick Christenson is widely regarded as one of the best gambling book reviewers publishing today. He is a contributor for Poker Player magazine, and has published in Full-Tilt and Gambling Times. He is also the editor of the very funny 'Casino Death Watch,' which chronicles the comings and goings of casinos in Las Vegas. He is an avid poker and blackjack player. Nick's website is www.jetcafe.org/~npc/ on the table. Sometimes a flash of insight like this will be a catalyst that takes a player's game to a whole new level. In The Best Hand I Ever Played, Steve Rosenbloom asks 52 famous poker players to recount the most memorable hand they ever played. This book chronicles their answers and provides analysis about some truly remarkable hands.
The Best Hand I Ever Played is comprised of 52 vignettes, each of which includes some background on the player in question, their recollection of their most memorable hand, and an analysis of the hand (called "The Rake" for some reason) by author Rosenbloom. These stories are organized alphabetically by their subject. Ostensibly, the theme of the book is "best" hands, hands where the hero of the story played especially well or played a hand where they learned something profound. Not all the players interviewed followed Rosenbloom guidelines, however. Many of the hands fall into the category of "most memorable" rather than "best played".
Some of the hands I found especially interesting. The hand T.J. Cloutier recounts wins my award for most improbable, although I don't think there's a poker lesson there. The hand Dewey Tomko recounts is the most entertaining one, and shows that sometimes there's more to be won and lost than just the money in the pot. From a strategic standpoint, my favorite hand story is the one told by Martin De Knijff. I believe his hand selection shows more depth than any other in this book.
The Best Hand I Ever Played is a book geared more toward entertainment than strategy. Insight can be found in some of the hands discussed in this book, but there's less than the strategic-minded poker player would like. One of the reasons for this is that I was not at all impressed with Rosenbloom's analysis of these situations. For many of the hands, he is forced to reach to find some insight where there is little to work with, and this isn't his fault. However, even when a hand is discussed with interesting implications, I found his analysis to be rather shallow and uninteresting, and in at least a couple of cases I think he significantly misinterprets what the player he interviews is saying.
Rosenbloom's book is a quick read. Each story is weighs in at about two or three pages, and the way the book is formatted makes for a fair bit of "dead air" throughout. Nonetheless, the book is entertaining enough to probably make it worthwhile to poker fans. An industrious reader will find some nuggets of strategic interest, but the book really isn't all that deep, so I give it a mild recommendation for those looking for entertainment and the completist looking for something light.