More Book Reviews
Best Selling Poker Books of 2014
How did the new books compare to the old classics? Well, we will let the data speak for itself. Take a look at the list of the best selling poker books of 2014.
Deal Me In and Eat Professional Poker Players Alive Reviewed
There isn't a clear path by which people become professional poker players. There aren't any good courses at the local vo-tech for a person to study. The road to becoming a poker pro is inevitably difficult, circuitous, and filled with setbacks. Deal Me In is a book describing the course by which twenty top poker players became professionals.
Poker Winners Are Different
There is a big difference between what's typical human behavior and what is called for to play poker at a high level. There aren't a lot of people for whom maximizing their expectation in poker games comes naturally. Poker Winners Are Different by Alan Schoonmaker examines this conundrum.

Poker Face 2
by Ulvis Alberts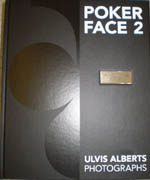 Limited Edition sequel to Ulvis Alberts' original Poker Face. This large-format coffee table art book weighs nearly 10 pounds and includes more than 400 images from "The Early Years" (1977-82) and "The Explosive Years" (2002-2005) of the World Series of Poker. (A beautiful protective box to store your book is included.) There are only a total 2000 signed and numbered copies available. No additional copies of this edition will be produced.
If you are looking for a gift for that friend or spouse who sometimes seems consumed with the game, don't pass up Poker Face 2—25th Anniversary Edition (351 pages, hardbound, $274), a book

Howard Schwartz, the "librarian for gamblers," is the marketing director for Gambler's Book Club in Las Vegas, a position he has held since 1979. Author of hundreds of articles on gambling, his weekly book reviews appear in numerous publications throughout the gaming industry. Howard's website is www.gamblersbook.com by photographer Ulvis Alberts that captures all facets of the faces of people playing America's game. This is a stand-apart work of history, and an art in itself. With text by A. Alvarez, whose own work, The Biggest Game in Town (1983) accelerated world-wide interest in the, Poker Face 2, through hundreds of photographs helps explain the game's attraction to people around the world. This oversized book was published in 2006 and only 2,000 copies of the Collector's Edition exist. The original version, published in the early 1980s, is so rare now that copies sell for more than one-thousand dollars.
There are more than 300 photos in this gem with two easy-to-use indexes—one called a Page Index of Photographs, which makes it easy to find a person's photograph by page number and one called the Alphabetical Index where names start alphabetically with Crandall Addington and end with Steve Zolotow.
The clean, crisp photos take center stage and are accompanied by hundreds of quotes, sayings and opinions about people and game from folks such as Albert Einstein, Doc Holliday, Doyle Brunson, Somerset Maugham and David Mamet.
Alberts divided the book into two sections: The Historical Years (1977-1982), which covers about the first 110 pages, and The Explosive Years (2002-2005). The final page features Joe Hachem of Australia winning the 2005 World Series of Poker.
You see the great Jack Straus with the heart of a lion; who turned one $500 chip into a championship; the eyes of intensity, later the eyes we can't see in a baby-faced Stu Ungar winning it all. We see the toll the game takes on players as they "hit the wall" we see the end of an era in photos of Binion's Horseshoe Club's final days. The people change, but their goals remain the same—survive and win. The photos in this book tell most of it because Alberts took us there via his great photography and an eye for human nature.
With its emphasis on the World Series of Poker, this book will likely become as much a part of poker history as that great event. It could be one of the finest gifts for someone who enjoys the game at any level as it is something that will be an impressive library addition and something a proud owner can display and show off to friends.