Poker Aces
by Ron Rose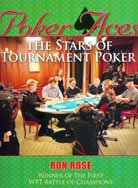 Compiled and written by Ron Rose, winner of the first World Poker Tour of Champions Poker Aces is a wonderful picture-biography collection in coffee-table format. With stories and photos about more than 80 world class players it serves as informational material as well as fan material for those who want to collect poker autographs as it's a nice place to have your favorites sign.

The Best Hand I Ever Played
by Steve Rosenbloom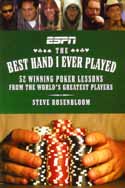 An enjoyable-to-read collection of 52 interviews with the best professional poker players in the world (including Doyle Brunson, Amarillo Slim, Phil Gordon, Howard Lederer, Scott Fischman, Chris Moneymaker and Annie Duke) in which they recount the greatest hands of their storied careers. Combining heart-stopping action, dramatic storytelling, larger-than-life characters, and expert instruction, Rosenbloom, the syndicated poker columnist for the Chicago Tribune and the ESPN Poker Club, provides colorful, money-making wisdom from the sharpest minds in the game. Whether you're a newcomer in a friendly weekly game, an on-line shark, or a veteran of Vegas tournaments, this book will teach you to talk, think, and play like a pro.