Serious Poker
by Dan Kimberg
If you've been surfing around looking for poker information on the web, you've no doubt come across Dan Kimberg. For years, he's maintained Dan's Poker Page (now SeriousPoker.com) which has gained the respect of poker players everywhere. Now Kimberg has written 'A field guide to poker as it's played in casinos and cardrooms in North America and around the world.' This revised and streamlined edition features An Introduction to Serious Poker (including rules, etiquette and starting to play); Basic Strategy; Taking Poker Seriously, (advice on how to think about poker, understanding expectation and variance, money management and record keeping); Special Topics, which range from how tournaments work to how to avoid being cheated; and technical and reference material. Serious Poker fulfills the needs of serious poker players everywhere.

Catching Poker Cheats
by A.D. Livingston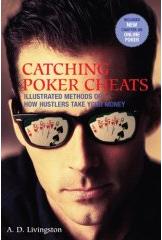 A. D. Livingston's indispensable and fully illustrated guide on to how to detect and protect yourself against cardsharps when playing poker, blackjack, gin rummy, and bridge at the table or online. Beginning with the eyeing of marked cards, false shuffles, and shifty cuts, Catching Poker Cheats helps to inform the uninformed who would otherwise be susceptible to hustlers and con artists.