No Limit Hold 'Em: Theory and Practice
by David Sklanskly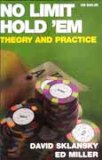 Poker's premier theorist (Sklansky) teams up with one of the game's most respected instructors (Miller) to take the theoretical approach to high-stakses hold'em. Their work covers critical concepts such as manipulating the pot size, adjusting correctly to stack sizes, winning the battle of mistakes, reading hands, and manipulating opponents into playing badly. It breaks this complex game down to bare bones with thorough and easy to follow analyses. If you are looking to improve your cash game or tournament play, this is a must read.

Ultimate Guide to Poker Tells
by Randy Burgess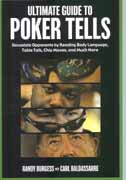 Covering limit and no-limit poker among its 10 chapters (illustrated), Burgess makes a valid point about Mike Caro's original book on the subject -- it was written before hold'em became the hottest game, when draw poker or stud was popular. Plus, another generation or two of players have honed their camouflage skills behind sunglasses, hoods, funny eyeglasses and stone-cold stares to counter reads by opponents. The book should help improve your own game, whether a beginner or hard core pro and to smooth out your own table etiquette while disguising your mode of play.