More Book Reviews
Best Selling Poker Books of 2014
How did the new books compare to the old classics? Well, we will let the data speak for itself. Take a look at the list of the best selling poker books of 2014.
Deal Me In and Eat Professional Poker Players Alive Reviewed
There isn't a clear path by which people become professional poker players. There aren't any good courses at the local vo-tech for a person to study. The road to becoming a poker pro is inevitably difficult, circuitous, and filled with setbacks. Deal Me In is a book describing the course by which twenty top poker players became professionals.
Poker Winners Are Different
There is a big difference between what's typical human behavior and what is called for to play poker at a high level. There aren't a lot of people for whom maximizing their expectation in poker games comes naturally. Poker Winners Are Different by Alan Schoonmaker examines this conundrum.

In the Money
by Antonio Esfandiari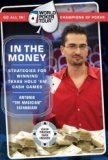 At this very moment, thousands of poker lovers are playing Cash Games, a non-tournament style version of Texas Hold 'Em, in casinos, home games, and online. In this follow-up to New York Times best seller World Poker Tour: Shuffle Up and Deal, poker professional Antonio Esfandiari provides the next level of poker strategies and insights for players of Cash Games, the most commonly played version of Texas Hold 'Em. Other stars of the World Poker Tour, the most popular show in the history of the Travel Channel, offer their tips as well. This indispensable strategy guide is a must-have for any player who wants to know how to win his or her next hand and be 'in the money.'
Antonio Esfandiari, a former professional magician, and the first player under 25 to win a first-place poker prize over $1 million, has a dynamite new title, In the Money: Strategies for Winning Texas

Howard Schwartz, the "librarian for gamblers," is the marketing director for Gambler's Book Club in Las Vegas, a position he has held since 1979. Author of hundreds of articles on gambling, his weekly book reviews appear in numerous publications throughout the gaming industry. Howard's website is www.gamblersbook.com Hold 'em Cash Games which is co-authored by David Apostolico, the man who previously authored Tournament Poker and the Art of War and Machiavellian Poker Strategy.
Esfandiari, one of the most colorful, charismatic and classy tournament players of our generation launched his career at age 19. This is a how-to book with some biographical material. You can virtually watch the author move up the ladder to heavier games, finish in the money and win the competition. Some of the advice is simple, but right to the point and logical.
"The best way to make money is to fold ... only play when you have an edge. Cash games are measured over the long term. Every player will have losing sessions and even losing streaks that may last awhile. When you are going through a losing streak, do not let it get to you. Always take time to evaluate your play. If you are making correct decisions, then stay the course." He talks about observation, practice, the importance of position, challenging yourself, proper bankroll and overconfidence.
This is an author who's been there. He moves the reader-player along just right revealing what to expect, finding the right game, finding a level of competition you can handle and what to expect in cash games. One vital chapter compares no-limit (there's more finesse) to limit games and the adjustment which must be made, both in money and psychologically.
Another section answers the question of how cash games compare to tournament play. After that, he moves into high gear with preflop strategy and postflop play; playing the turn and the river.
By chapter 10 you'll learn the proper way to play in a shorthanded game, followed by heads-up play, then creating a table image, playing loose, tight, aggressively, playing online and finally how to shuffle your chips like a pro.
Although the book does not illustrate sample or key hands, which would be helpful for those who learn by visualizing what cards players have how opponents react, it's a small flaw in a polished gem of a book. You can just feel the love this player has for the game and understand how much he appreciates those who have helped him become one of the most respected feared competitors on the circuit.