Drawing Dead to a Gutshot: How to Talk Poker
by Brant Janeway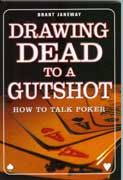 Everyone who has ever sat into a poker game for the first time knows the language is a bit different from everyday lingo. From ace-high to to brass Brazilian to Siegfried and Roy, to Zooted, Janeway gives the definition and origin of the game's colorful and unique terms. A clever presentation, perfect for trivia buffs, budding poker players.

Poker Tournament Formula II: Advanced Strategies
by Arnold Snyder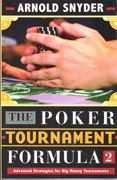 Following up on the success of his original book of the same name, the former blackjack expert has produced a controversial title which debunks the commonly held beliefs about how to win at poker tournaments . He explains the power of chip utility, covers utility ranks, tournament structures, small and long-ball strategies, patience factors, the impact of structures, crushing the Harringbots and other player types, tournament phases, and more. Includes big sections on Tools, Strategies, and Tournament Phases.