How to Turn Your Poker Playing Into a Business
by Ann-Margaret Johnston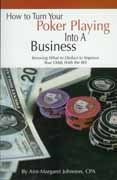 Here's a book devoted to dealing with U.S. taxes and poker, written by a tax-expert and poker player. Ann-Margaret Johnston (CPS) shows you step-by-step ways to turn poker into a business andhow to handle the expenses and deductions that go with your business.

The Poker Face of Wall Street
by Aaron Brown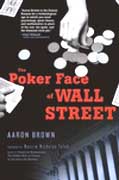 The author, an executive with Morgan Stanley, holds a degree in applied mathematics (Harvard) and in finance (University of Chicago). In both institutions, he played poker with the rich and future famous. In this work he focuses on the odds and skills underlying the mercurial crafts of risk taking and shows how poker and Wall Street are easily intertwined. He reveals why the modern game of poker and modern finance have more simlarities than differences and what they mean for players at each kind of table.