Killer Poker by the Numbers
by Tony Guerrera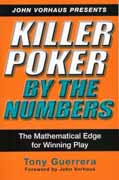 This new book by an exciting new author, CalTech graduate Tony Guerrera, introduces mathematical analysis as a vital tool in winning at no-limit hold'em. Seven major sections offer understandable material on probability, permutations, and combinations. Tony shows how to conduct solid analysis of hands, hand distribution, expected value, and how to apply these findings. Another section looks at unpaired & paired flops, followed by winning with pocket pairs (including flopping a set or better, and playing a set against made known hands). One chapter discusses drawing hands includes playing draws from early and late positions. Shorthanded play is discussed. Packed with charts & explanation, Killer Poker by the Numbers is a goldmine of mathematical ideas for gaining an edge, without intimidating formulas. The 8-page index makes it easy to locate a specific topic.

Inside Poker: The Good, The Bad and The Ugly
by Vince Burgio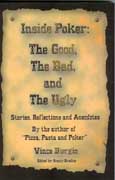 Vince Burgio is one of poker's most popular champions, not only because he is a great competitor but also because he represents the poker community with dignity and decorum. In this book, a compilation of his many columns, he often comments on the current crop of poker pros who look and act foolish for the camera and who, in his opinion, give the game a negative feeling. While that's the focus of many chapters, others cover a wide path of poker information. He talks about the people he's met, the games he's played, the fun side of poker that makes it his favorite pastime (next to playing with his grandchildren). Each segment appears to be light reading but the true poker fan will find nuggets of great interest between the lines.