Inside Poker: The Good, the Bad and the Ugly
by Vince Burgio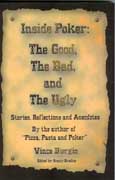 Vince Burgio is one of poker's most popular champions, not only because he is a great competitor but also because he represents the poker community with dignity and decorum. In this book, a compilation of his many columns, he often comments on the current crop of poker pros who look and act foolish for the camera and who, in his opinion, give the game a negative feeling. While that's the focus of many chapters, others cover a wide path of poker information. He talks about the people he's met, the games he's played, the fun side of poker that makes it his favorite pastime (next to playing with his grandchildren). Each segment appears to be light reading but the true poker fan will find nuggets of great interest between the lines.

The Hand I Played: A Poker Memoir
by David Spanier

This is a gem of a memoir on poker. Spanier describes his initiation into gambling and then turns to describing the game he loves best...poker. Full of frank and amusing personal anecdotes and observations about poker this book is an absolute pleasure to read.