Take Me To the River
by Peter Alson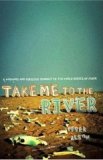 Take Me to the River is a hilarious, heart-wrenching tale of Las Vegas and an exploration of what it means to be part of one of the fastest-growing and most popular sports in the United States, at the moment of its apogee, and of the lessons that poker has to teach about probability and luck, good and bad fortune, patience, perseverance, and -- most fitting for a man with marriage in his near future -- commitment.

52 Greatest Moments World Series of Poker
by Mark Rogers

This coffee table book makes a great poker gift, autograph book and display item for discussion. Whether you are looking to preserve exciting historical moments or learn the details of the World Series of Poker, this book provides both in an entertaining and controversial format.