Lessons from the Pro Poker Tour
by David Apostolico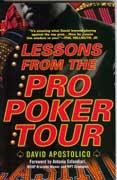 The invitation-only Professional Poker Tour is limited to the top 200 players in the world. David Apostolico is one of the elite, and he found that going up against other poker masters every day was like attending an incomparable seminar. He takes you through specific hands that he either played or observed, giving detailed analyses that will teach you how to think like a pro. Assessment and adaptability are key factors for survival and success in fast-moving games with experienced players. Smart strategy is your greatest asset, and by studying the extensive hands in this book, you'll learn the tactics and approaches of legendary winners.

Lessons from the Felt
by David Apostolico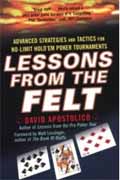 This is the next step after Apostolico's Lesson's From the Pro Poker Tour. Here he takes those lessons and turns them into action. He shows you how to apply the advanced techniques to an array of no limit hold 'em tournaments. This book is designed to help you win in every level of the arena. Provided is in depth analysis of real-life hands that the author has encountered. You can learn how to make the best decision possible regardless of your cards, or the circumstances. This book is designed to help you improve your skill, your odds, and your enjoyment.