The Best Hand I Ever Played
by Steve Rosenbloom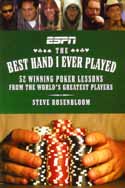 An enjoyable-to-read collection of 52 interviews with the best professional poker players in the world (including Doyle Brunson, Amarillo Slim, Phil Gordon, Howard Lederer, Scott Fischman, Chris Moneymaker and Annie Duke) in which they recount the greatest hands of their storied careers. Combining heart-stopping action, dramatic storytelling, larger-than-life characters, and expert instruction, Rosenbloom, the syndicated poker columnist for the Chicago Tribune and the ESPN Poker Club, provides colorful, money-making wisdom from the sharpest minds in the game. Whether you're a newcomer in a friendly weekly game, an on-line shark, or a veteran of Vegas tournaments, this book will teach you to talk, think, and play like a pro.

Machiavellian Poker Strategy
by David Apostolico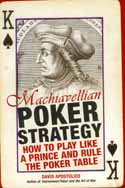 In Tournament Poker and the Art of War, David Apostolico showed players how to use the strategies explored in Sun-tzu's military manual to dramatically enhance their tournament play. Now he focuses on that other timeless masterpiece of tactical thinking—Machiavelli's The Prince—and reveals its uncanny application not just to tournament play, but to all forms of poker.