The Rules of Poker: Essentials for Every Game
by Lou Krieger
This book provides comprehensive rules for all the major poker games, making it an ultimate poker argument settler. Many rules are annotated with examples and interpretation notes so that nothing is lost in translation. The book is fully indexed so it is any easy reference is the casino, or where ever you may be playing.

Poker Face--Mastering Body Language to Bluff, Read Tells and Win
by Judi James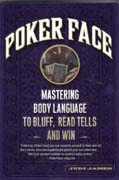 One of a number of books with the same title, this one is written by a body language and image consultant expert and consultant. Here she actually spells out how to single, double and triple bluff to disguise your poker hand. The first part of the book concentrates on you as the player, where she helps you see who you are and sets the parameters for the actor you will become in order to pull the wool over the eyes of your opponents. The second part of the work focuses on both you and your opponent and tackles subjects such as How to Stare, Classic Poker Moves, Trash Talk, and also disucusses psychological factors that cause people to act and react in certain patterns.