Caro's Most Profitable Hold'em Advice
by Mike Caro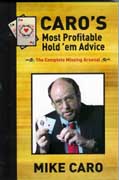 Mike Caro is one of casino poker's pioneers and he has been teaching people his brand of winning since the 1970s. He was a major contributor to Doyle Brunson's Super System and is the creator of the first videos on poker tells. In this title he continues with his lessons on hold'em by revealing some previously unpublished--and secret--strategies including rankings and anatomies of all 169 categories of starting hands. He covers every detail with chapters devoted to the concepts of bluffing, image, psychology, manipulation, pre-flop and post-flop conditions and follows these with treating poker as a business (doing it the profitable way), tournament concepts, tells and advanced hold'em concepts.

Ms Poker: I'm Not Bluffing - Boxed Set
by Susie Isaacs
Isaacs is a tournament poker competitor who has collected a roomful of first-place trophies and was the first woman to win the World Series of Poker ladies championship back-to-back in 1996 and 1997. In 1998, she placed 10th in the $10,000-event vying for the $1 million first prize. Here she combines two books to create a boxed sent. she In book I she compiled the best of the hundreds of articles she's written about poker over the years. In this highly biographical work she also includes many new articles. In Book II, she draws upon her own tournament success to teach players how to finish in the money in limit and no-limit hold'em and seven-card stud.