52 Tips for No-Limit Texas Hold 'em Poker
by Barry Shulman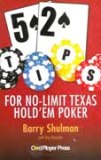 This book picks up where the popular the author's first work, 52 Tips for Texas Hold'em left off by concentrating on the no-limit version of this game. This book assumes you have a basic knowledge of hold'em, specifically which hands to play in what position. This books then adapts your basic knowledge from standard limit hold'em to no-limit. Focus is on your hand and stack size relative to others at the table.

Poker Winners are Different
by Alan Schoonmaker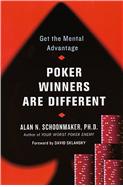 Poker Winners Are Different is the full realization of what Schoonmaker was trying to accomplish in his previous two books, Your Worst Poker Enemy and Your Best Poker Friend and represents his best work on poker psychology to date.