More Book Reviews
Best Selling Poker Books of 2014
How did the new books compare to the old classics? Well, we will let the data speak for itself. Take a look at the list of the best selling poker books of 2014.
Deal Me In and Eat Professional Poker Players Alive Reviewed
There isn't a clear path by which people become professional poker players. There aren't any good courses at the local vo-tech for a person to study. The road to becoming a poker pro is inevitably difficult, circuitous, and filled with setbacks. Deal Me In is a book describing the course by which twenty top poker players became professionals.
Poker Winners Are Different
There is a big difference between what's typical human behavior and what is called for to play poker at a high level. There aren't a lot of people for whom maximizing their expectation in poker games comes naturally. Poker Winners Are Different by Alan Schoonmaker examines this conundrum.

Catching Poker Cheats
by A.D. Livingston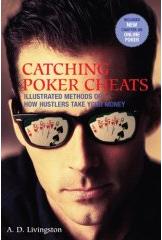 A. D. Livingston's indispensable and fully illustrated guide on to how to detect and protect yourself against cardsharps when playing poker, blackjack, gin rummy, and bridge at the table or online. Beginning with the eyeing of marked cards, false shuffles, and shifty cuts, Catching Poker Cheats helps to inform the uninformed who would otherwise be susceptible to hustlers and con artists.
It took me a while to figure out where I'd seen Catching Poker Cheats (Illustrated Methods of How Hustlers Take Your Money) before. The photos were familiar, extreme detail, well done. It turns out

Howard Schwartz, the "librarian for gamblers," is the marketing director for Gambler's Book Club in Las Vegas, a position he has held since 1979. Author of hundreds of articles on gambling, his weekly book reviews appear in numerous publications throughout the gaming industry. Howard's website is www.gamblersbook.com this is a reprint of Dealing With Cheats originally published in 1973 and now reprinted with a new title, and a new chapter keyed to online poker.
The 219-page paperbound has been a collector's item the past decade or so, but I sure wish the publisher had clarified what its previous status (and title) were. In the early 1970s, hold'em as we know it today did not exist, so you'll find only a mention of this game and others (such as Omaha) in that recently-added online chapter.
Aside from those criticisms, I think you'll find great value here--the price being $11.95. The book might also be helpful in identifying players and dealers who have a touch of larceny in blackjack, bridge and gin rummy.
The contents pages outlining the book's 16 chapters show Livingston covering many old-time cheating techniques. For instance there's some excellent work on peeking, spying and signaling; followed by marked cards luminous readers and belly strippers.
Slick dealers; false shuffles; shifty cuts and haymaker stacks get a close look along with palming, holding out and ringing in. Those interested in how people steal or "cop" chips will be a bit smarter after reading this, especially in home games or those played at the country club or fraternal organization where those "friendly" games often attract crossroaders (cheats) looking for easy pickings. Those friendly games -- the "smokers" and Thursday night games with the boys (or the ladies) -- offer cheating opportunities, so there's a need to understand the proper way to shuffle or to make sure someone shuffles.
How to avoid being an easy target for someone with a gun is in a small, but colorful chapter that outlines past experiences of professionals and world class players who, in the "good old days" were often robbed by some "good ole boys" who knew just where the games were or where the participants traveled after the action was over.
But perhaps the most valuable material, balanced by excellent descriptions and details of what you're seeing, are the photos (although black and white) of cheaters in operation, showing how the cards can be marked, bent, warped, hidden, added to a hand or removed.
After reading Catching Poker Cheats, you'll understand better than ever, why professional dealers are so valuable--and why one man dealing in a private game or each person dealing in a similar situation can offer such a dangerous situation.
The online cheating section brings up many questions. It may make the novice nervous, yet it explains why a certain segment of the population is still reluctant to make the move from live game to Internet action.
Young magicians may enjoy the book as well because of its discussion of card manipulation and its history.
If you've never read the original, then this is a fine addition to your poker or cheating detection library.