More Book Reviews
Best Selling Poker Books of 2014
How did the new books compare to the old classics? Well, we will let the data speak for itself. Take a look at the list of the best selling poker books of 2014.
Deal Me In and Eat Professional Poker Players Alive Reviewed
There isn't a clear path by which people become professional poker players. There aren't any good courses at the local vo-tech for a person to study. The road to becoming a poker pro is inevitably difficult, circuitous, and filled with setbacks. Deal Me In is a book describing the course by which twenty top poker players became professionals.
Poker Winners Are Different
There is a big difference between what's typical human behavior and what is called for to play poker at a high level. There aren't a lot of people for whom maximizing their expectation in poker games comes naturally. Poker Winners Are Different by Alan Schoonmaker examines this conundrum.

Broke: A Poker Novel
by Brandon Adams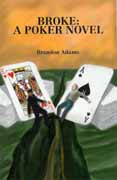 This is a poker novel that looks at three types of players -- any of whom could be based on real-life characters -- and follows them through their high-stakes quest for rame and fortune.

Winning Secrets of Poker
by Peter Thomas Fornatale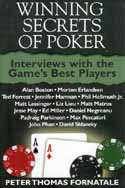 Fornatale interviews 18 professional poker players with a combined 20 World Series of Poker bracelets in an attempt to discover what separates them from the recreational player. Besides reading how Phil Hellmuth tries to control his temper to Jennifer Harman talking about the nerve-racking scene of playing in the world's biggest poker game, Fornatale interviews Max Pescatori, David Sklansky, Matt Lessinger, an Anonymous Midwestern pro, Liz Lieu, Jesse May, Daniel Negreanu, Ed Miller, John Phan, Alan Boston, an anonymous Downtown pro, Ted Forrest, Padraig Parkinson, Matt Matros, Morten Erlandsen and the anonymous pro from Hell's Kitchen.
Peter Thomas Fornatale, a very talented writer with a skill for interviewing the best in poker, has a new book on the game, while Brandon Adams adds a fresh view of the game in a novel. These are two

Howard Schwartz, the "librarian for gamblers," is the marketing director for Gambler's Book Club in Las Vegas, a position he has held since 1979. Author of hundreds of articles on gambling, his weekly book reviews appear in numerous publications throughout the gaming industry. Howard's website is www.gamblersbook.com
worthy additions to your poker library, and here's a look at each work.
Fornatale, who penned a popular little book on the game titled The Poker Aficionado in 2005 (a marvelous gift at $14.95), again shows his talent in Winning Secrets of Poker: Interviews With the Game's Best Players (235 pages, hardbound, $24.95). Among those he interviewed (several are anonymous) are Ted Forrest, Jennifer Harman, Phil Hellmuth, Matt Lessinger, Matt Matros, Ed Miller, Dan Negreanu, John Phan and David Sklansky.
Although I often get tired of the question-answer format (I think it's better done in the DVD format), here Fornatale hits the jackpot; he's right on target, picking the brains of some of the best in the game, probing, asking for examples, rationale, explanations on most areas of
poker
. His questions highlight what made most of these big name players successful from the earliest days in their career, including how they learned from mistakes and moved to the level of world class champions. The book would have been a tad better with pictures of those interviewed, but that's a trivial error on the publisher's part. (Interestingly, the Daily Racing Form got this excellent book done.)
Topics covered include limit, no-limit play, online play, discussions of cheating and collusion, bluffing, books which influenced and proved invaluable to players, who the best players are and what makes them special. Players interviewed have won more than 20
World Series of Poker
bracelets and won millions of dollars.
It's fast reading and packed with ideas and a sense of direction, making it an important book for every level player, especially those who dream of playing for big money against the best.
Brandon Adams, a young Boston player, has an eye and an ear for the game. His effort, titled Broke: A Poker Novel (91 pages, paperbound, $9.95), even got Phil Hellmuth's attention with this assessment: 'Excellent, entertaining, and extremely well written. I couldn't stop reading.'
The novel follows three top young guns and their various addictions in their search for fame at the game. One is a 25-year-old math genius, another has an almost unexplainable ability to read opponents' hands from their body language and the third seems to border on self-destruction.
The novel takes place in Nevada, California and New Jersey, with detailed action, specific hands, a crisis here, a bad beat there, some highlights and some strategies. It's seemingly autobiographical to a degree, but Adams balances the action, the personalities and the table moves extremely well. In 91 pages, this baby moves like a rocket. Overall, well worth the money. This man understands the game.