Phil Gordon's Little Blue Book
by Phil Gordon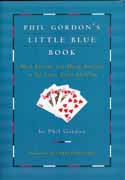 Valuable sections include Cash Games AND Tournament Play; Sit and Gos; Satellites and Supersatellites. Nicely illustrated with many lessons, examples and analysis, it's a balanced, smooth-reading textbook, some of which is based on the author's experience. This balance of common sense, strategies, ploys and an honest appraisal of what was going through his mind when he made his moves adds strength to this powerful, positive pack of lessons. One unique approach is to 'improve at poker is not by finding answers. It is by finding questions,' says champion Chris Ferguson in the foreward. This companion book to Gordon's Little Green Book does just that.
Read a review of Phil Gordon's Little Blue Book
FRAMINGHAM, Massachusetts -- The National League of Poker (NLOP) announced today that over 75,000 people have registered on its free online poker portal www.nlop.com. NLOP, which launched to the public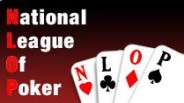 The NLOP (National League of Poker) is a good bet for poker players who want tournament action. in May 2006, is the first completely free-to-play online poker portal that offers players risk-free poker tournaments that awards cash and prizes to winners. During the month of February 2007, NLOP administered over 20 million minutes of poker-play, had over 620,000 individual poker sessions, and generated more than 70 million advertising impressions.
"Our NLOP division continues to experience amazing adoption numbers, averaging over 10,000 new players per month" said Michael Clebnik, COO of Power Play. "The Unlawful Gambling Enforcement Act has changed the online poker landscape forever. The withdrawal of offshore sites like Party Poker from the U.S. market has left millions of Americans abandoned. NLOP is the leading legal alternative for online poker play."
NLOP has designed a fantasy-sports style weekly contest structure where contestants receive "NLOP Points" each day they log in. They use these points as entry fees to tables where they can earn more points, qualify for finals, or win cash prizes.
"We have developed the all-important 'loss factor' into our competitions," continued Roy A. Evans EVP. "The poker play on our site is as serious as real-money sites because our NLOP points have true value -- play poorly and you go bankrupt on points, and can't play again until the next day." Evans also announced that NLOP plans on adding a suite of new games and enhanced player-functionality next quarter, and expects to award over $250,000 in prizes in 2007.
Consumers can sign up and play at www.nlop.com and enter the Rounder's Series with over $35,000 in cash and prizes up for grabs.
National League of Poker (NLOP)
2 Watson Place
Building 3, 2nd Floor
Framingham, MA 01701
Phone: info@nlop.com
Website: www.nlop.com

NLOP is the first completely free-to-play online poker portal that offers players a risk-free poker environment to play in, and awards cash and prizes to winners.