Harrington on Cash Games: Vol. 1 and Vol. 2
by Dan Harrington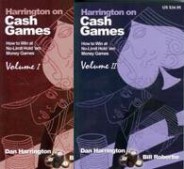 Dan Harrington begins his insight into success at cash games in Volume 1 with chapters that look basic ideas such as the four principles: expectation, odds and outs, bet types before moving on to the Elements of No-Limit Hold'em and covering stack sizes in relation to hand selection, bet count tables, pot size and pot commitment. Also hand reading. The third major section of the book includes tight-aggressive play before the flop. That's followed by the same concept on the flop, heads-up, then multiple opponents. Volume 2 continues with chapters that look at tight aggressive play on the turn, tight aggressive play on the river, tells and observations, playing a style that's loose-aggressive and beating the weak games, bankroll management. Each chapter covers myriad topics such as reasons for betting, balancing bet size, bluffing, leverage, understanding where you stand, playing live games, disguising your play, picking up blinds, applying pressure.
MILWAUKEE – Milwaukee's Best Light, the official presenting sponsor of the World Series of Poker (WSOP), has kicked off its seven-week 'Online Virtual Poker Challenge' promotion, awarding

Milwaukee's Best Beer is a lead sponsor of the World Series of Poker. one seat per week to the 2008 WSOP Main Event. The poker tournaments, which invite legal-drinking-age consumers to enter and play at www.milbestlight.com, are free and culminate in a weekly grand prize tournament to award the seat to next year's prestigious $10,000 buy-in championship event.
Each week, from June 3 through July 22, eligible consumers can visit www.milbestlight.com, play Texas Hold'em Poker and attempt to increase their point total to position themselves for the grand prize tournament. Players also can accumulate bonus points by logging on each day, answering trivia questions, referring friends to the website, entering product codes found on specially marked packages and by taking brief surveys. Then, every Sunday at 4 p.m. Eastern, the top 500 qualifiers will compete in a grand prize tournament. The winner will receive a $10,000 seat to the 2008 WSOP Main Event along with round-trip airfare, hotel accommodations and $1,000 spending money.
"Milwaukee's Best Light has been the beer of choice at countless poker games around the country for years, so what better way to show our appreciation than by giving poker players a chance to win a seat to the most prestigious poker tournament in the world," said Kevin Rutherford, Milwaukee's Best Light senior brand manager. "It's true that Milwaukee's Best Light is the official beer of the World Series of Poker, but we're also the unofficial beer of poker games everywhere."
The contest rules and additional details about the "Online Virtual Poker Challenge" are available at www.milbestlight.com.
The 'Online Virtual Poker Challenge' is only one aspect to Milwaukee's Best Light's multi-faceted WSOP sponsorship. Throughout the 2007 WSOP tournament, a Milwaukee's Best Light-themed No Limit Lounge at the Rio Hotel and Casino in Las Vegas will help quench the thirst of poker players and fans. As if delicious Milwaukee's Best Light beer weren't enough, the No Limit Lounge also will feature celebrity bartenders periodically, including poker pros Annie Duke and Robert Williamson III. And for the second straight year, Milwaukee's Best Light is holding the "Bubble Playoff," which gives the final 10 WSOP contestants who are eliminated "out of the money" a chance to compete in a single table poker event to win a seat at the 2008 WSOP and a year's supply of Milwaukee's Best Light.