Titan Poker, one of the fastest growing online poker rooms, will be represented by player Christian Mounier at the European Poker Tour French Open poker tournament, taking place at the prestigious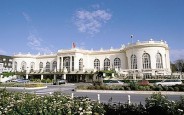 Casino Barrière will host the French Open Poker Tournament


Casino Barrière de Deauville in Deauville, France, starting February 8, 2006.
Christian Mounier won Titan Poker's French Open satellite tournament, finishing ahead of 60 other avid players competing for the French Open seat.
The French Open Poker Tournament is part of the popular European Poker Tour, which stages competitions among the world's best poker players in different European locations. Over 300 players will be competing in the prominent French Open tournament.
Titan Poker regularly awards its players with seats at the world's most well-known poker tournaments. Titan Poker currently guarantees more than $1,000,000 in monthly tournament prizes. Players are drawn to Titan Poker's popular daily, weekly and monthly huge cash tournaments, and to Titan Poker's special jackpot sit 'n' go tournaments with progressive prizes and jackpots as high as $100,000.
In addition, Titan Poker will host what is being billed as the World's Best Freeroll, This Freeroll features a $500,000 Guaranteed Prize Pool, and in addition offers a unprecedented $100 Million Jackpot Prize. The $100 Million Jackpot Prize will be awarded if one of the players hits a Royal Flush of Spades at the Final Table.
The $100 Million Jackpot Prize is re-insured by National Indemnity Company, which is a subsidiary of Berkshire Hathaway Inc. (NYSE: BRKA) – one of the world's biggest insurance companies. Seven other jackpot prizes, totaling more than $3 Million, promise to make this Final Table one of the most exciting ever.