Play Triple-Draw Lowball at Ultimate Bet

Ultimate Bet offers triple-draw poker online. If you're looking to practice what you've learned here, it is the place to go. The site also has the full complement of games and features you would expect from a top-flight room. There's even beginner, intermediate and advanced poker strategy available.
Titan Poker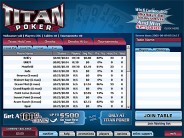 Titan Poker has some of the best poker action on the web with plenty of tables and tournaments. Games on offer include Texas Hold'em, Omaha, Omaha Hi-Lo, and Stud. There are daily tournaments for every kind of budget. The game play interface is intuitive and includes Turbo mode and multiple tables. Titan's VIP Club rewards its players with cash back and other promotions.
Online Draw Poker Strategy
An uncommon game in today's card rooms, draw poker still flourishes online with both five card draw and lowball games. That's good news for players who read the following articles on online draw poker. Michael Wiesenberg, a noted poker expert, believes there are plenty of opportuntiies to make money playing draw poker online. Here are articles that will help you improve your draw poker game and make some money.
More Online Draw Poker Vignettes
In the previous article, Michael Wiesenberg gave us some illustrations of betting behaviors that can be exploited when playing draw poker online. If you're going to play that game, read these articles first.
Online Draw Poker Vignettes
Online draw poker is a great game for low rollers, particularly if you want a change from hold'em and 7-stud. The stakes are small, you have to make only two decisions per round, and what your hand is is much more clearly defined than in the other games.