LONDON -- Bookmaker Paddy Power has pledged to double the GBP10,000 first prize in its forthcoming World Strip Poker Championship if the event is won by someone donating their winnings to charity.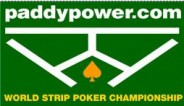 Paddy Power is hosting the world's largest strip poker tournament in London.
This would mean a whopping GBP20,000 payday for the winning charitable organisation.
The event, being held at the Cafe Royal, Regent Street, London on Saturday 19 August, is an attempt to set the Guinness World Record for the largest ever strip poker tournament.
Interest in taking part in the event has been so strong, with applicants across 15 countries, that the organiser is now looking to expand the event. A large percentage of those playing are doing so to raise funds for their favourite charities.
Spokesman Paddy Power said, "We don't want to disappoint anyone who wants to play and we've had a lot of interest from people willing to donate their winnings to charity so we thought we'd super-size the event and encourage people to cast off their clothes for charity."
Charities or their patrons interested in participating can register at www.paddypower.com/strippoker or contact pressoffice@paddypower.com
The winner of the event will also win a package worth approximately GBP3,000 to play in the Paddy Power Irish Poker Open, Dublin over Easter weekend 2007 where they will get a shot at the GBP1 million plus prize pool.
Event details:
When: 19 August 2006
Where: Cafe Royal, Regent Street, London, W1B 5EL
How: Register free to take part on www.paddypower.com/strippoker
Other: The tournament will be played in a fully hygienic and comfortable environment with professional dealers, tables and a tournament structure that will encourage lots of poker play.

Paddy Power plc
Airton House
Airton Road
Tallaght
Dublin 24
Ireland
Paddy Power is Ireland's largest bookmaker and is now one of the UK's fastest growing bookmakers. From launching an online sportsbook in 2000, the company has now extended services to include Reverse Auctions, an online Casino, Poker Room plus dozens of fixed odds and multiplayer games.